Simple Peanut Butter Cookies
Title

Simple Peanut Butter Cookies

Subject

Cooking

Grade level

Any (Must have adult supervision when baking!)

Time duration

10 Minutes

Overview

Create a healthy cookie!

Objective

Create a simple peanut butter cookie, without all of the extra ingredients!

Materials

Mixing Container, Baking Sheet, 1 Cup Peanut Butter, 1/5 cup Flour, 1 Egg
*Optional ¼ cup- 1 cup sugar to taste


Step-by-Step
STEP 1
In a mixing bowl combine all ingredients.


STEP 2
Place on a baking sheet and bake in the oven at 350 degrees for 10 minutes.


STEP 3
Let cool completely on the tray before removing or they will fall apart.


STEP 4
Enjoy!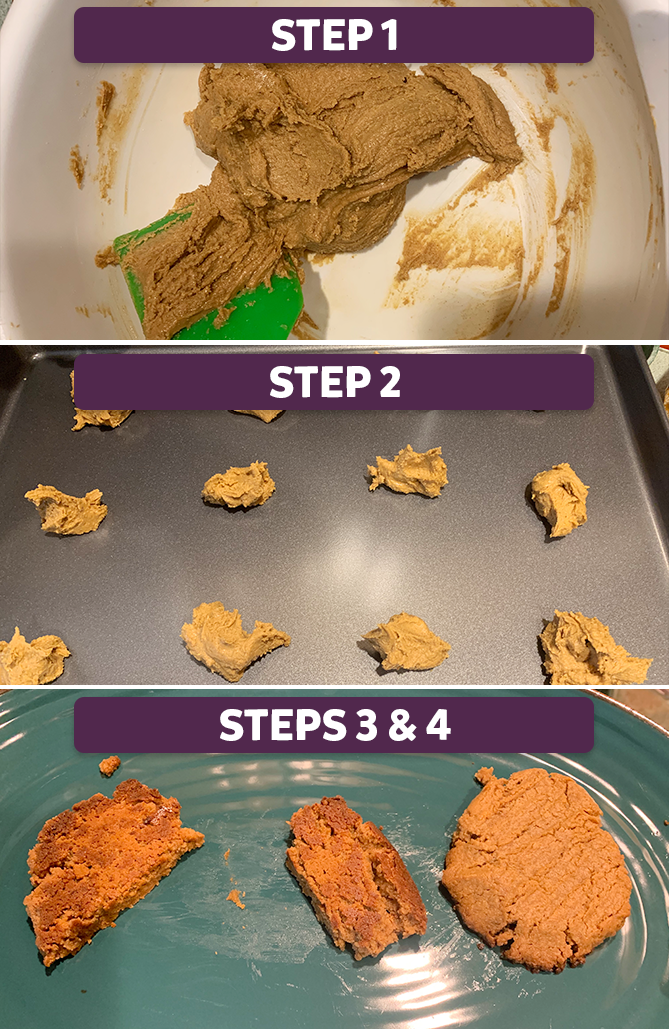 Conclusion
Super simple right? This is such a versatile recipe, it can be changed in a number of ways and still come out great! Don't have anything but peanut butter and one of the other ingredients? It will work! Try different things and adjust the sugar to a level you are comfortable with.


Extra Credit
The peanut butter is the star here and should be kept as such. The reason you don't need other ingredients in this is because the Peanut butter contains natural protein, oil and other ingredients that allow it to bake with very little help. Adding an egg works as a binder and will give you a firmer cookie. More flour will make the cookie thicker like a sugar cookie or wafer. Baking is science! Try something new each time until you find your perfect cookie combination!


Share your project with us!
Did you follow our instructions and make your own? We want to see! Tag us on Facebook or Instagram, or CLICK HERE to submit a photo or video of your project. We may share it on our website or social media!


Support Online Learning at Kidzeum

Kidzeum is a non-profit organization. Therefore, we rely on supporters like you to provide this content to the children in our community. Please consider donating and help us continue creating learning opportunities for our young ones.