Make a Pollinator Rest Station!
| | |
| --- | --- |
| Title | Pollinator Rest Station |
| Subject | Natural Science/ Biology |
| Grade level | Any |
| Time duration | 5 Minutes |
| Overview | Pollinators work hard to survive. So, when an opportunity for a treat shows up, they take advantage! |
| Objective | Create a rest station for pollinators! |
| Materials | 1 jar, 1 lid larger than the jar top, paper towel, sugar |


Step-by-Step
STEP 1
Fill your jar with half sugar and half water.
STEP 2
Stir until the sugar is dissolved.
STEP 3
Place your paper towel (a piece of fabric works just as well!) on the top of your jar.
STEP 4
Next place the oversized lid on top of the paper towel.
STEP 5
Turn the jar over so the lid is on the bottom.
STEP 6
Set outside and observe!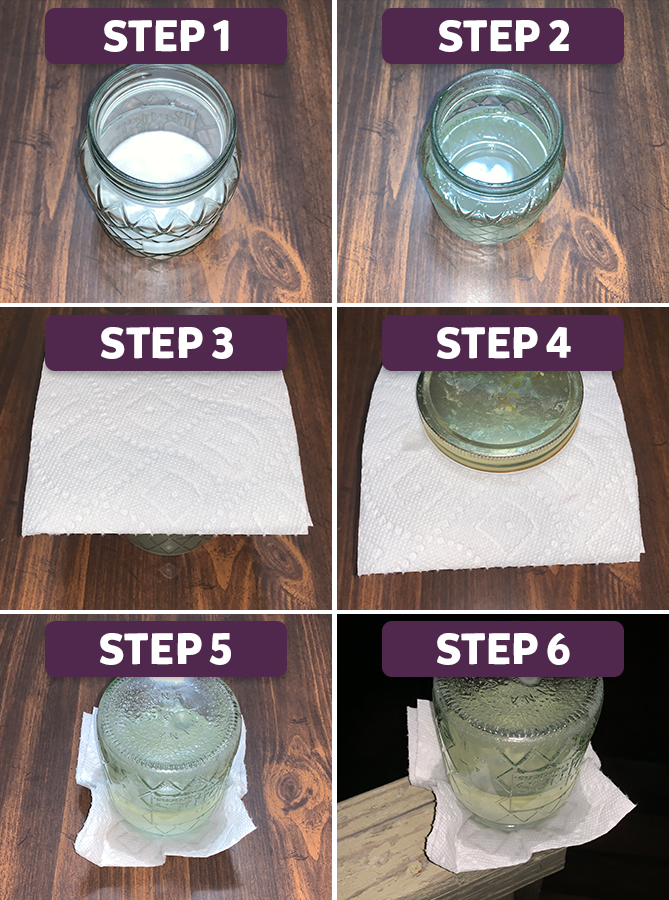 Conclusions
Everyone likes a sweet treat... especially pollinators! Pollinators are attracted to the sugar solution (that's why they are attracted to flowers) and will seek it out. Many different kinds of pollinators can be spotted on a nice day, from ants and bees to butterflies and birds.
The paper towel will act as a wick for the sugar solution and provide a place for pollinators to safely land.


Extra Credit
Try using a different ratio of sugar to water! Changing how much sugar is in your liquid can change which types of pollinators will stop by. Different species have different tastes!


Share your project with us!
Did you follow our instructions and make your own? We want to see! Tag us on Facebook or Instagram, or CLICK HERE to submit a photo or video of your project. We may share it on our website or social media!



Support Online Learning at Kidzeum

Kidzeum is a non-profit organization. Therefore, we rely on supporters like you to provide this content to the children in our community. Please consider donating and help us continue creating learning opportunities for our young ones.