Make an Origami Plant Pet!
| | |
| --- | --- |
| Title | Origami Plant Pet |
| Subject | Natural Science/ Biology |
| Grade level | Any |
| Time duration | 5 Minutes |
| Overview | Using an edible seed you will create an Origami Plant Pet that grows! |
| Objective | Using common household objects, create a paper pet that facilitates seed germination. |
| Materials | Origami Figure, Edible Seeds |


STEP-BY-STEP
STEP 1

Create an origami figure out of kid safe paper. Click here to learn how to make an origami butterfly!
STEP 2
When you are done, use a spray bottle or quickly dip your origami figure in water to soak it. Be gentle as some papers become fragile after dampening!
STEP 3
Next you will sprinkle seeds (we suggest chia seeds for their nutrients and quick growth!) over the figure.
STEP 4
Place your figure on a windowsill that gets partial sun. Make sure to keep your figure damp, but not soaked, to promote seed growth. Enjoy!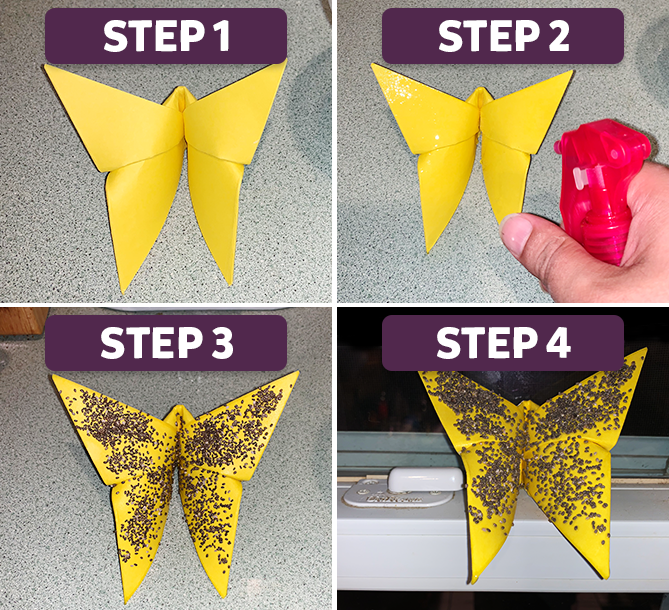 CONCLUSION
This method will allow you to produce sprouts that grow on your origami figure. Depending on the materials used, you can even grow edible sprouts. When your sprouts have grown enough you can plant the origami figure to grow a full-sized plant.


EXTRA CREDIT
If you are having trouble getting your seeds to germinate on your origami figure, ensure that it is getting enough water (we water our figure several times per day!). If you are still having trouble, try keeping the origami figure in a Ziploc bag to create a humid environment or keep it in a cupboard for the first 24 hours. Both of these methods can often speed up germination. Be sure to record your results!



SHARE YOUR PROJECT WITH US

Did you follow our instructions and make your own? We want to see! Tag us on Facebook or Instagram, or CLICK HERE to submit a photo or video of your project. We may share it on our website or social media!



SUPPORT ONLINE LEARNING AT KIDZEUM!

Kidzeum is a non-profit organization. Therefore, we rely on supporters like you to provide this content to the children in our community. Please consider donating and help us continue creating learning opportunities for our young ones.