Create an Egg Planter
| | |
| --- | --- |
| Title | Egg Planter |
| Subject | Create your own Seed planter using an egg! |
| Grade level | Any with adult supervision |
| Time duration | 5 minutes |
| Overview | Create a small seed starter (planter). |
| Objective | Have fun and grow your own plants! |
| Materials | 1 Egg, Butter Knife (with adult supervision!), Fertilizer, Crayon |


Step-by-Step
Draw a circle at the top of the smaller side of an egg. On the opposite side (the wider side) draw a dot.


Using the butter knife, tap along the edge of your circle gently until you hear a crack. Continue to tap until the top comes loose.


Remove the top of the egg and dump out the inside into a small container.


Using the butter knife, tap the bottom dot until it cracks and a small hole becomes visible. (Don't worry if the hole is a little bigger than you wanted. As long as the sides don't break and the hole is no larger than the cap of a pen you are ok!)


Fill with a fertilizer or seed starter soil and put your seed inside.


Wait and watch it grow!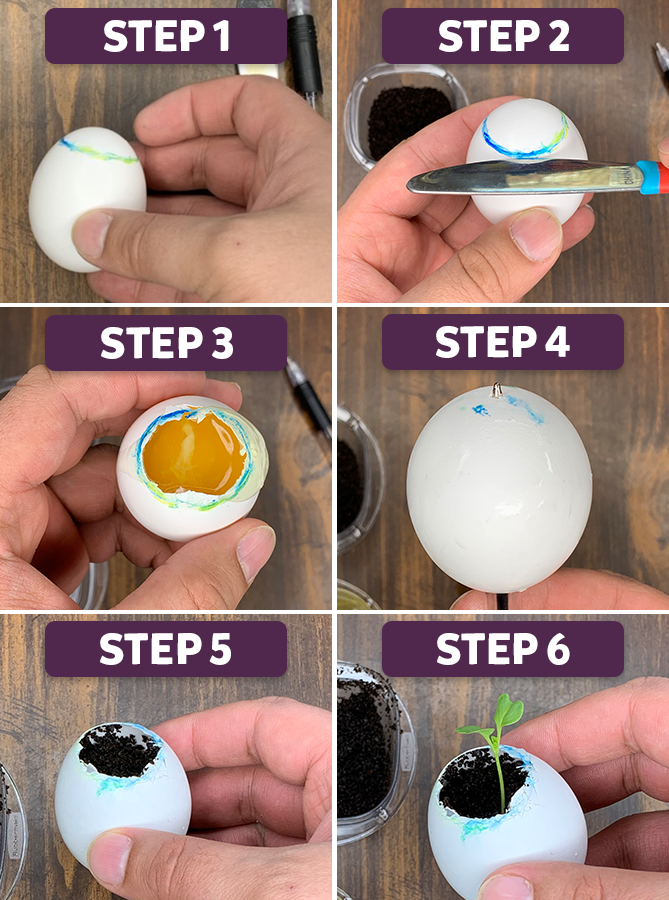 Conclusion
This is a safe, environmentally friendly seed planter that helps your plants grow! As the egg breaks down it provides the plant with more minerals and nutrients.


Extra Credit
Try making your own fertilizer using discarded kitchen waste. You don't have to compost for this. Get creative!


Support Online Learning at Kidzeum
Kidzeum is a non-profit organization. Therefore, we rely on supporters like you to provide this content to the children in our community. Please consider donating and help us continue creating learning opportunities for our young ones.