Let's Make Oobleck!
| | |
| --- | --- |
| Title | Colloid Oobleck |
| Subject | Science |
| Grade level | Any (with adult supervision) |
| Time duration | 5 minutes |
| Overview | Create a simple Non- Newtonian Fluid |
| Objective | Learn what a Colloid and Non-Newtonian fluid are. |
| Materials | Corn Starch, Water, Optional: Food Coloring |
| | |
| --- | --- |
| Lesson | A Colloid is a substance that seems like it's one thing, but is actually made of two or more things. Foods like jelly and bread dough are Colloid substances. A Non-Newtonian fluid is a fluid that changes its properties when energy is applied to it! Oobleck is a great example of both of these! Follow the directions below and make your own... |


Step-by-Step
In a bowl, create a mixture that is 2/3 corn starch and 1/3 water. (If you want some color in your mixture, add in a bit of food coloring to the water before mixing.)
Let it sit for a few minutes.
Stir the mixture with a spoon or your hand.
You're finished! Your oobleck is sticky, so be sure to keep it contained to a small area, like a plate.
| | |
| --- | --- |
| Try this! | Take your finger and poke it into the Oobleck. If you Poke fast, it will be act like a solid and your finger won't enter. But if you poke the Oobleck slowly it will sink in like quicksand! |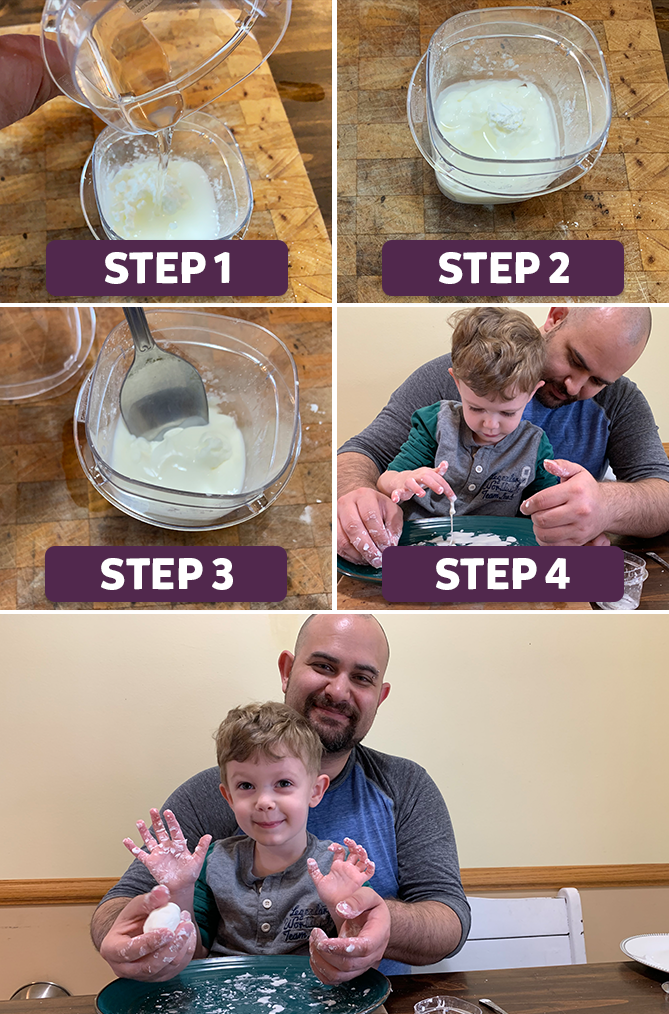 Extra Credit
Can you think of another example of a Colloid? What about another example of a Non-Newtonian fluid? I will give you a hint… it likes to hang out with jelly!




Support Online Learning at Kidzeum
Kidzeum is a non-profit organization. Therefore, we rely on supporters like you to provide this content to the children in our community. Please consider donating and help us continue creating learning opportunities for our young ones.