Grow a Butterfly!
| | |
| --- | --- |
| Title | Grow a Butterfly |
| Subject | Natural Science |
| Grade level | Any (with adult supervision) |
| Time duration | 5 Minutes |
| Overview | Watch the amazing life cycle of a Butterfly or Moth! |
| Objective | Using a few simple materials found around your home you will create a butterfly observation jar. |
| Materials | Glass Container, Caterpillar, Leaves (from the plant where you find your caterpillar), Gloves |


Step-by-Step
STEP 1
Find a clear glass or plastic container. Grab a hair tie or rubber band and a piece of paper towel or toilet paper (make sure your paper fits over your container).

STEP 2
Wearing gloves, go outside (with a parent!) and observe the plants you find there. When you find a caterpillar, carefully place it in your jar.
STEP 3
Collect some of the leaves and stick (or stem) attached of the plant you found your caterpillar on.
STEP 4
Carefully put your stem and leaves into your jar. Make sure you can easily remove it, as you will need to change it out a few times.

STEP 5
Place your paper over the lid and secure it with a rubber band or hair tie. Then... Observation time!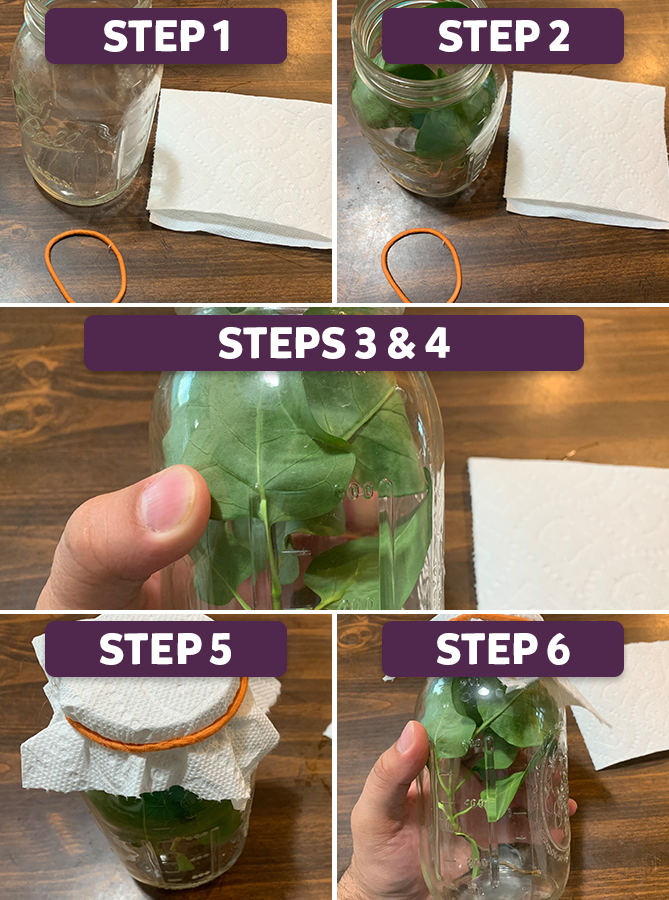 How to Care for Your Caterpillar
You will need to care for your critter! Once per day, mist the inside of the jar with a squirt or two of water (tap water is fine). If you don't have a way to mist it, a lightly damp cotton ball will work as well.
You will need to change out the plant you put into the jar when it starts to wilt so your caterpillar can continue to eat a healthy diet!
Soon, your caterpillar with transform into a chrysalis, and after a few weeks, it will emerge a Butterfly (or Moth)! You will need to give it a place to rest to dry its wings. We suggest draping a thin strip of paper towel down the side as this is easy for the butterfly to grab onto and helps it dry its wings.
Now its time to feed your Butterfly. A cotton ball with sugar water (1:1 ratio) is a great way to feed your Butterfly. Just make sure to soak the cotton ball once or twice a day with the sugar solution.


Extra Credit
It is always fun to observe nature. Watching the amazing transformation from caterpillar to butterfly is one of natures coolest displays of metamorphosis. But we also want to make sure our Butterflies can go on to have caterpillars of their own. This is why, after a few days of observation, we encourage you to release your butterfly. It will be fine on its own and will ensure that more of its species can help pollinate and create wonder in our lives.



Share your project with us!
Did you follow our instructions and make your own? We want to see! Tag us on Facebook or Instagram, or CLICK HERE to submit a photo or video of your project. We may share it on our website or social media!


Support Online Learning at Kidzeum

Kidzeum is a non-profit organization. Therefore, we rely on supporters like you to provide this content to the children in our community. Please consider donating and help us continue creating learning opportunities for our young ones.