Kidzeum History
How Kidzeum Began:
In 1992, a group of volunteers banded together to open the original Springfield Children's Museum. For eight years, this museum served as a solid community attraction with more than 40,000 visitors each year. However, because the museum suffered from inadequate space and an inconvenient location, it ultimately could not be sustained.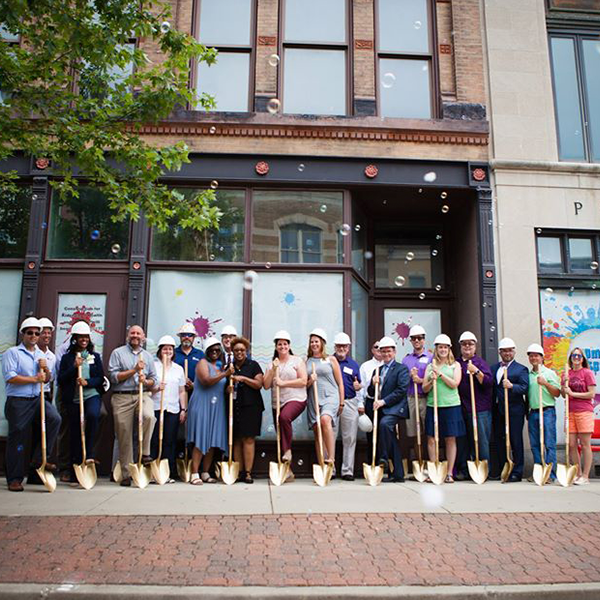 In 2008, with a shared passion to build a learning environment for children and their families, a new group of dedicated community members convened to form the Kidzeum of Health and Science Board of Directors, Trustees, and volunteers. With more than 200 strong, Kidzeum supporters recognized the need for an educational and entertainment facility in our region.
During Kidzeum's planning phase, focus groups, including both children and adults, determined the topics of health and science that would be the best fit for the new children's museum. With this in mind, Kidzeum of Health and Science's mission, to create memorable experiences of learning through play for children of ALL abilities, was developed to address critical issues affecting today's youth.

This is no small effort! There were hundreds of people involved in the planning, building, and fundraising efforts, with much of the help coming from volunteers who generously donated their time and effort.
With a new focus and a new name, Kidzeum of Health and Science is dedicated to providing access to children of all abilities through the development of multi-sensory components for each part of the museum.


History of the Kidzeum Building
Circa 1884: One portion of the Kidzeum building was built and used as a two-story brick store.
1907: Schnepp and Barnes assumed ownership of the building.
1928: A concrete addition to the building was created that now houses our exhibits, including Active Alex! Concrete joists were also used to support the weight of huge printing presses.
2005: Don Schnepp sells his business and his building.
2008: Architect Bruce Ferry buys and restores the historic facade on the building, which is part of the National Register of Historic Places.
2013: Kidzeum buys the building.
2017: Kidzeum holds a groundbreaking ceremony.
July 21, 2018: Kidzeum celebrates its grand opening!

Kidzeum Building in the 1970s:
Thank you to the Sangamon Valley Collection for these photos.