Birthday Rental Policies
Thank you for thinking of Kidzeum as the place to host your birthday!
Our goal is to make your day as easy, safe and fun as possible so you can focus on celebrating. You can help us with this by reading through our Birthday Rental Policies below.
FEES
The private party rooms are calculated on a flat fee basis. The party room is $225 and our lunchroom can also be rented out for $350. The fee covers the price of the room rental and entry for all of your guests, based on the room's capacity.

You can also rent out the entire museum during our exclusive after-hours private rentals. It is $1,000 for 4 hours, $850 for 3 hours, and $600 for 2 hours = 250 guests maximum.
Your $50.00 non-refundable deposit will be applied to your final balance.
All parties must be paid in full when checking in.
CHAPERONES
We require a minimum of 1 adult chaperone for every 5 children. These adults must stay in the museum as active supervisors throughout the party. It is important that the parents in your group are aware of the museum rules and prepared to direct the group's play-time and clean-up so that everybody leaves as happy and healthy as they arrived.
Thank you, your help will ensure a safe and enjoyable experience for your guests and the other visitors at our museum.
SET-UP
You will have access to the birthday party room 15 minutes prior to guest arrival. Plates, cups, napkins, forks and spoons are available to use during your party.
You are welcome to provide food and drinks or additional decorations as needed. Confetti is not permitted. All balloons must be anchored down and are required to remain in the room.
Kidzeum reserves the right to charge a $50.00 cleaning fee and/or terminate the reservation if this policy is not followed.
ARRIVAL
Please check in with the front desk upon arrival and meet your Party Host there. A completed guest list is required 24 hours before the event. The guest list will help us maintain the room capacity, identify adults without children who are approved to enter the museum, and avoid confusion with guests.
You are responsible to greet/approve any additional adults or children that are not on the guest list.
Your guests will be asked to check in at the front desk as they arrive. Please see our During Your Party section for more information regarding the room capacity limits.

The birthday child and family must be included on the guest list and included in the total count of people towards your room capacity.
DURING YOUR PARTY
The party room is yours for the reserved 1 ½ hour period. All exhibits are also available to enjoy during that time. Only the reserved room is closed to museum visitors unless you have scheduled a party after-hours.

Our seating capacity for the party room is 25 guests (minimum 16) and 40 guests for the lunchroom. The capacity for all rooms includes adults, children and infants, and is strictly enforced by staff. You must abide by this capacity limit at all times.

Any guest that is over the room's capacity will be charged general admission prices and will not be allowed into the room until someone leaves and space is made.

All food (including candy) and drinks must remain in the party room. Alcohol is prohibited.
If you decide to use a third-party vendor for your party, you are responsible for all payments and actions of that vendor. If the vendor stays during the party, they will count towards the capacity limit.
Adults are required to supervise children throughout the party to ensure they are following the museum rules listed in each of the rooms. There must be one adult to every five children.
You are responsible for the actions of your guests. Any behavior that violates museum policies, causes destruction to the facilities or potential harm to others will require Kidzeum staff to intervene and/or terminate the rental early.

CLEAN-UP

When your 1 ½ hour reservation is finished, please make sure to vacate the room on time so we can ensure the room is ready for the next reservation. Kidzeum reserves the right to charge for additional time.

Before you leave, please make sure that any child that was dropped off for your party has his/her parent/guardian there or has already been picked up.

Please help Kidzeum staff clean up the private room. You are allowed 15 minutes after the scheduled party time to make sure things are tidy. It is your responsibility to remove leftover food and decorations. The Party Host will remove trash, vacuum and disinfect the room.
If deemed needed by museum staff, a $50.00 cleaning fee will be charged after your event for any balloons or confetti brought in, excessive cleaning needed to the room after your use or for any damage that was incurred by guests of your party. If damages exceed $50.00, Kidzeum reserves the right to charge for the full amount of the damage.
We appreciate your assistance in cleaning up after your party.
CANCELLATION
Refunds for cancellations are not offered; however, in the event of documented illness or hazardous weather conditions, we will make every effort to reschedule the party for a later date based on our availability at that time. Your $50.00 deposit will be forfeited for any cancellations outside of those circumstances.
MEMBERSHIP DISCOUNT
Kidzeum offers a 10% discount off any room rental for current members.

STAFF
A staff member will be your Party Planner and check in periodically during the 1 ½ in the private room. Should you need further assistance, Kidzeum staff is available to answer any questions.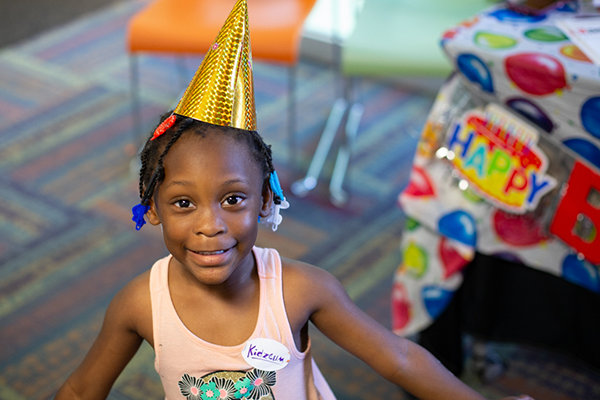 FOR ADDITIONAL QUESTIONS

Email Carissa Craven, Visitor Engagement Coordinator, at carissa.craven@kidzeum.org