New classroom spaces, STEAM lab & expanded programming coming soon to Kidzeum!
December 16, 2022
Plans are underway at Kidzeum to create a STEAM Center for Education by renovating two vacant storefronts adjacent to the Kidzeum entrance, at 414 and 416 East Adams Street in Springfield.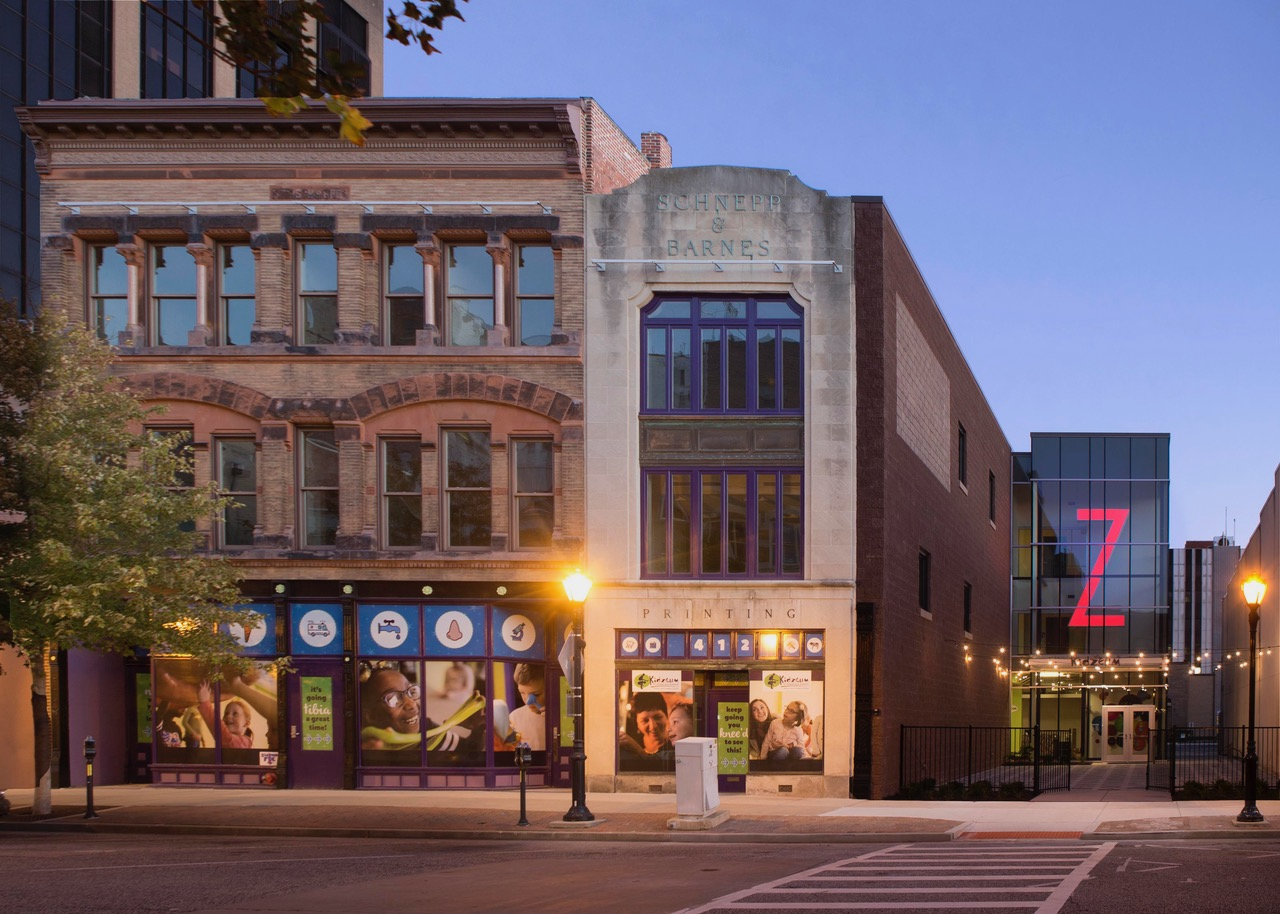 The Illinois Department of Natural Resources awarded Kidzeum a $366,500 grant to renovate these spaces to "white box" status, allowing for flexible use including traveling exhibits, birthday party rentals and other events, in addition to their primary use as classrooms for the STEAM residency program for 2nd graders in the Springfield School District, which had a successful first year and is being improved and expanded.
"We're excited to return these historic spaces to their former glory, and then to fill them with activities that are all about the future," said Leah Wilson, executive director of Kidzeum. "The jobs of the future are in STEM (science, technology, engineering and math). If we want to have a qualified workforce 10-20 years from now, we need to get more kids excited about STEM today. We think the Center for STEAM Education (which adds art/architecture) will help us do that."

The Center for STEAM Education at Kidzeum
The new spaces are one part of Kidzeum's expansion and enhancement of its science, technology, engineering, art and science (STEAM) programs, collectively creating the Center for STEAM Education at Kidzeum. The creation of this center is Kidzeum's strategic priority, making STEAM learning exciting and accessible for all young learners in District 186 elementary schools, and addressing the dire need for science, technology, engineering and math education.
Planned programs and activities for the Center for STEAM Education include:
Improved and expanded content for the STEAM Residency program for 2nd graders
A full slate of summer camps with stronger STEAM content
A full year of after-school programs including the Young Engineer's Club
In-school programs
Weekend programs for families
Professional development for staff
A STEAM education workshop for teachers as part of residency program
Additionally, the local Sunrise Rotary club has generously raised $20,000 for STEAM lab equipment, which will be used by students in the residency program, as well as in the expanded programming listed above. The STEAM lab will be modular and mobile, so parts of it can be moved around Kidzeum as needed.
Impact and importance of STEAM programs
The new Center for STEAM Education will inspire a love of science, technology, engineering, art and math topics that prepares students for rewarding occupations in STEM fields, and to acquire STEM concepts for their whole lives. The programs engage elementary students to lay the groundwork for a lifetime of exploration and enrichment, learning in a way that is engaging, interactive and fun.
Additionally, Kidzeum's STEAM programs address literacy challenges in the district by working with experts, and emphasizing opportunities for reading and writing in the curricula. Kidzeum is taking great care to address and correct issues of inequality in STEM education by ensuring that the programs actively engage girls and students of color, and that its teaching approach is more appealing to a wide variety of learners.
Next steps for new STEAM classrooms
Currently, Kidzeum has two classrooms used for the STEAM residency plus an additional exhibit space on the third floor that is sometimes used. Adding the two new spaces would bring the total rooms available for concurrent use to five. The eventual goal for the STEAM residency is 1,000 children participating per year, and the additional space is necessary to make that possible.
"We're really excited." said Wilson. "The Center for STEAM Education gives us a tremendous opportunity to show kids that STEM is really fun and that they can be successful in STEM careers."
Currently, drawings have been completed for the new classrooms. The next step is to bid the project to construction companies, and once the contractor is identified, construction will move quickly, with completion in a matter of months.