The STEAM Residency for 2nd graders returns to Kidzeum!
September 2, 2022
by Lindsey Flannery
The school year has begun and with it comes the return of the STEAM residency at Kidzeum on September 8th! This exciting program creates a 7 day residency at Kidzeum for 2nd graders in the Springfield School District. It leverages and builds on the STEAM (science, technology, engineering, art and math) content already available at the museum, making it part of the school's formal curriculum in a way that is accessible, inspiring and community-based.
The 2021-2022 school year was the first year of the residency, and over 300 students from the Springfield School District participated. This year, the goal is to bring the total number of students who have participated to 1,000.
The residency is collaborative, bringing district teachers together with Kidzeum staff to offer a truly unique, hands-on learning experience. Classroom teachers utilize classrooms at Kidzeum for their coursework, which is guided by a co-created curriculum, and Kidzeum educators augment this curriculum with additional activities and a collaborative STEAM project that builds on exhibit content.
First year report shows improvements in STEM aptitude and engagement, among others
Last school year, children and teachers provided feedback via surveys prior to and after the residency experience, and the results are exciting. Among the most notable impacts on students:
All students, regardless of race and gender, had significant increases in interest in science after being in the program for two weeks.
Teachers reported that students had highly improved enthusiasm, aptitude, and engagement in STEM after going through the program.
The majority of students reported forming more friendships since being in the residency.
Students enjoyed going to the museum more than their schools overall. In fact, of the students who originally said they preferred to learn at school, over 60% changed their responses after participating in the program and preferred to study at the Kidzeum.
One teacher said, "Having the hands-on experience was a cognitive igniter for some children."
District staff members mentioned that children were able to have a more hands-on experience and that they were able to open their minds to different concepts.
Kidzeum and the Springfield School District are committed to building on these successes in the present school year.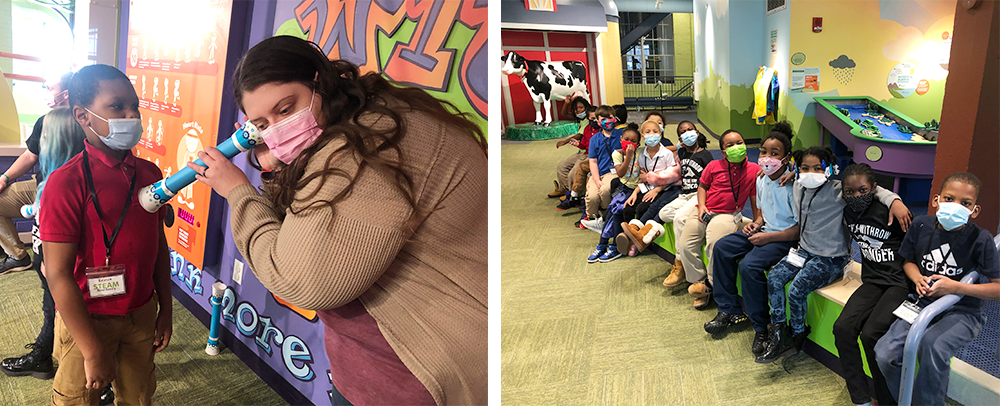 Why is STEAM learning important for our kids?
STEAM learning at the elementary level is critical for today's children. Our tech-based world needs students to have adequate education in science, technology, engineering and math to be prepared to work in STEM fields as adults. Currently, American STEM skills lag behind other countries, and there is unequal access to STEM education in the US. Women, people of color and those with disabilities are underrepresented in STEM careers.
The STEAM residency at Kidzeum addresses these needs directly. The curriculum incorporates science, technology, engineering, art, math (STEAM); as well as literacy, physical education, music, social studies and social-emotional wellness. It gives children the foundation they need to succeed in sciences at higher levels and to increase equity in STEM fields.
We look forward to welcoming your 2nd graders to Kidzeum this school year!


The Kidzeum STEAM Residency Program is generously supported by:

Lisa Stone
The Community Foundation for the Land of Lincoln
Memorial Health Systems
The Ademas Foundation
Kappa Delta Foundation
Brian Dickerson
BLH Computers