Honor Juneteenth Every Day
What is Juneteenth?
Juneteenth is a special day in the United States when we remember and celebrate the freedom of African Americans who were once enslaved. On June 19, 1865, General Gordon Granger arrived in Texas to make the announcement that would change the course of history.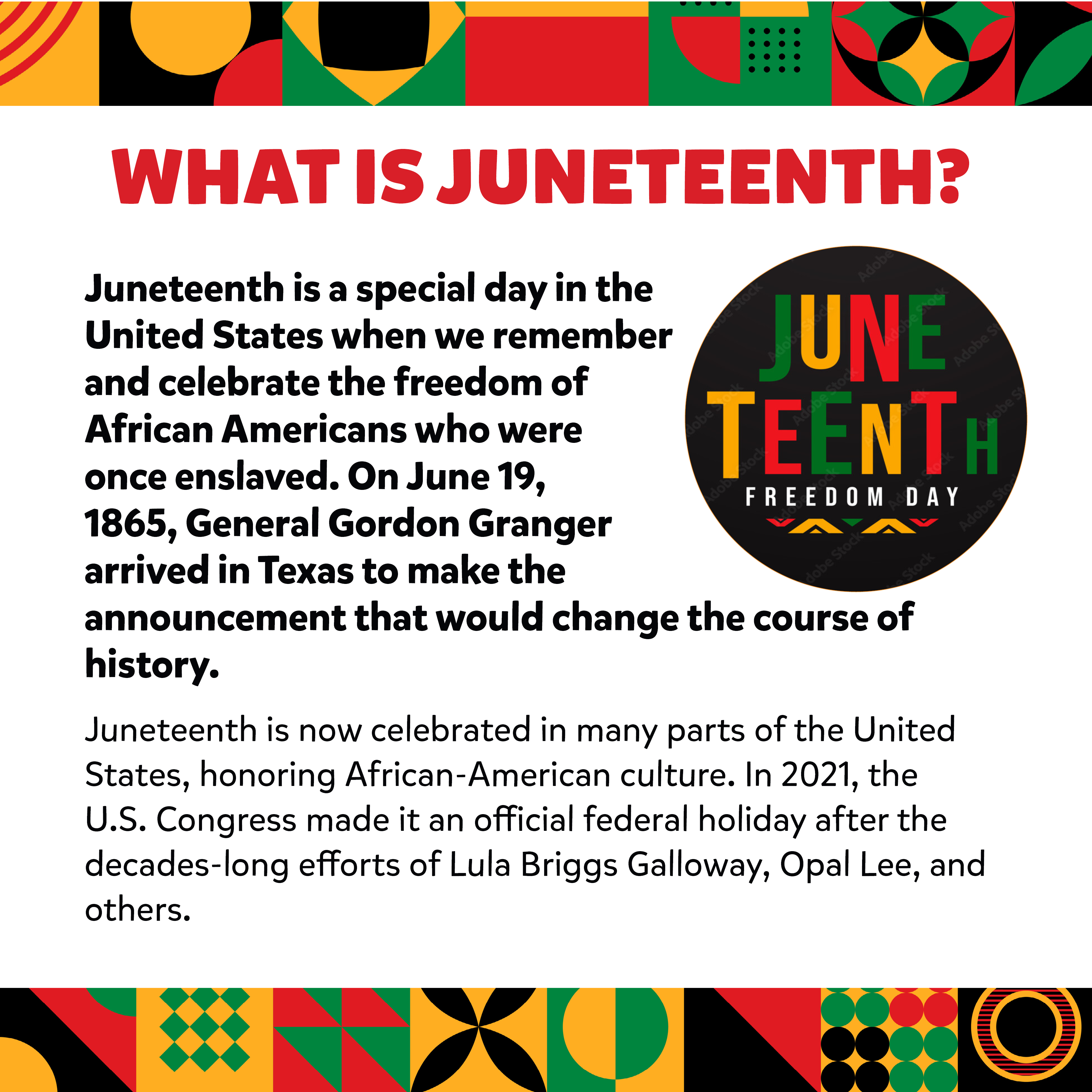 Juneteenth is now celebrated in many parts of the United States, honoring African-American culture. In 2021, the U.S. Congress made it an official federal holiday after the decades-long efforts of Lula Briggs Galloway, Opal Lee, and others.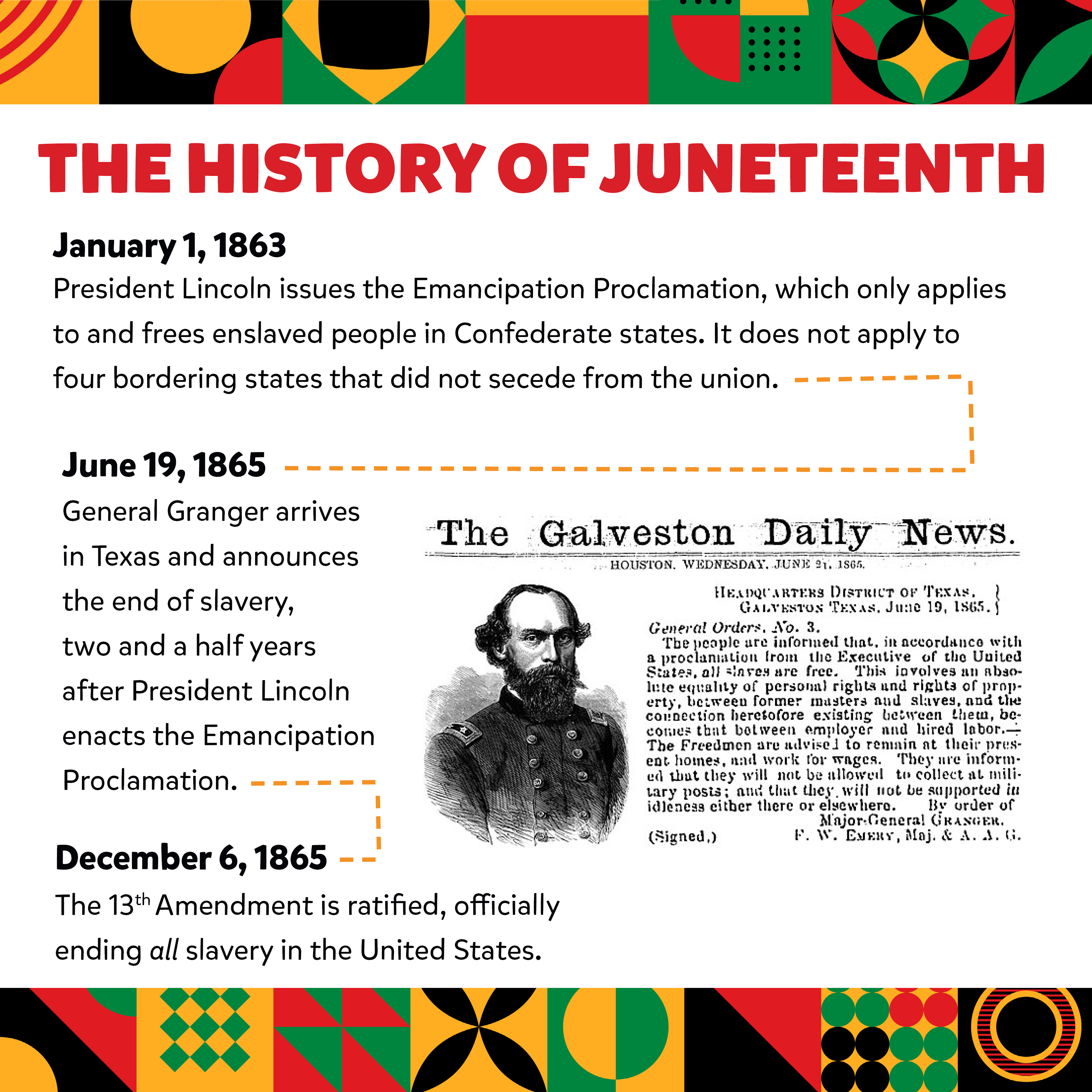 The History of Juneteenth
January 1, 1863 - President Lincoln issues the Emancipation Proclamation, which only applies to and frees enslaved people in Confederate states. It does not apply to four bordering states that did not secede from the union.

June 19, 1865 - General Granger arrives in Texas and announces the end of slavery, two and a half years after President Lincoln enacts the Emancipation Proclamation.

December 6, 1865 - The 13th Amendment is ratified, officially ending all slavery in the United States.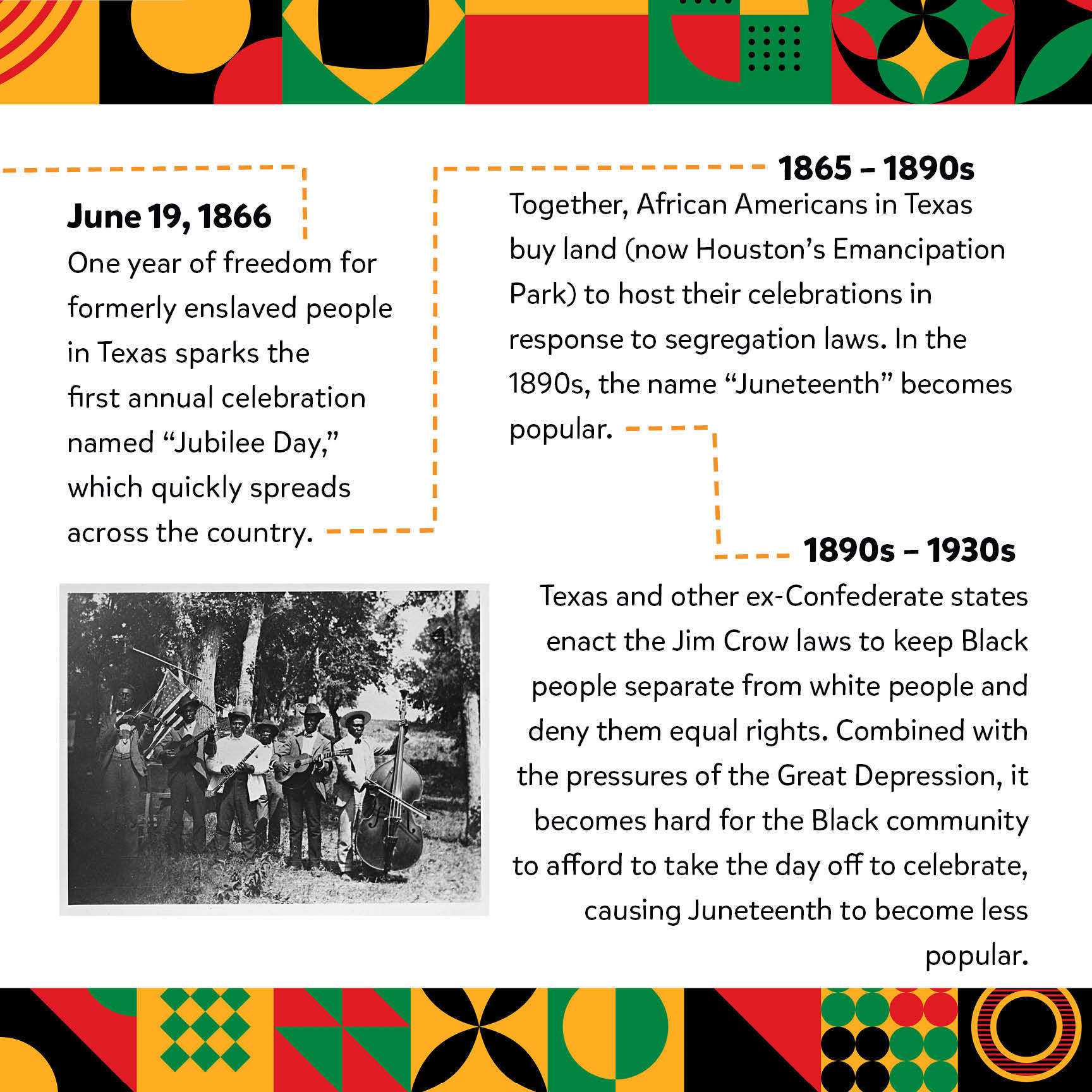 June 19, 1866 - One year of freedom for formerly enslaved people in Texas sparks the first annual celebration named "Jubilee Day," which quickly spreads across the country.

1865 – 1890s - Together, African Americans in Texas buy land (now Houston's Emancipation Park) to host their celebrations in response to segregation laws. In the 1890s, the name "Juneteenth" becomes popular.

1890s – 1930s - Texas and other ex-Confederate states enact the Jim Crow laws to keep Black people separate from white people and deny them equal rights. Combined with the pressures of the Great Depression, it becomes hard for the Black community to afford to take the day off to celebrate, causing Juneteenth to become less popular.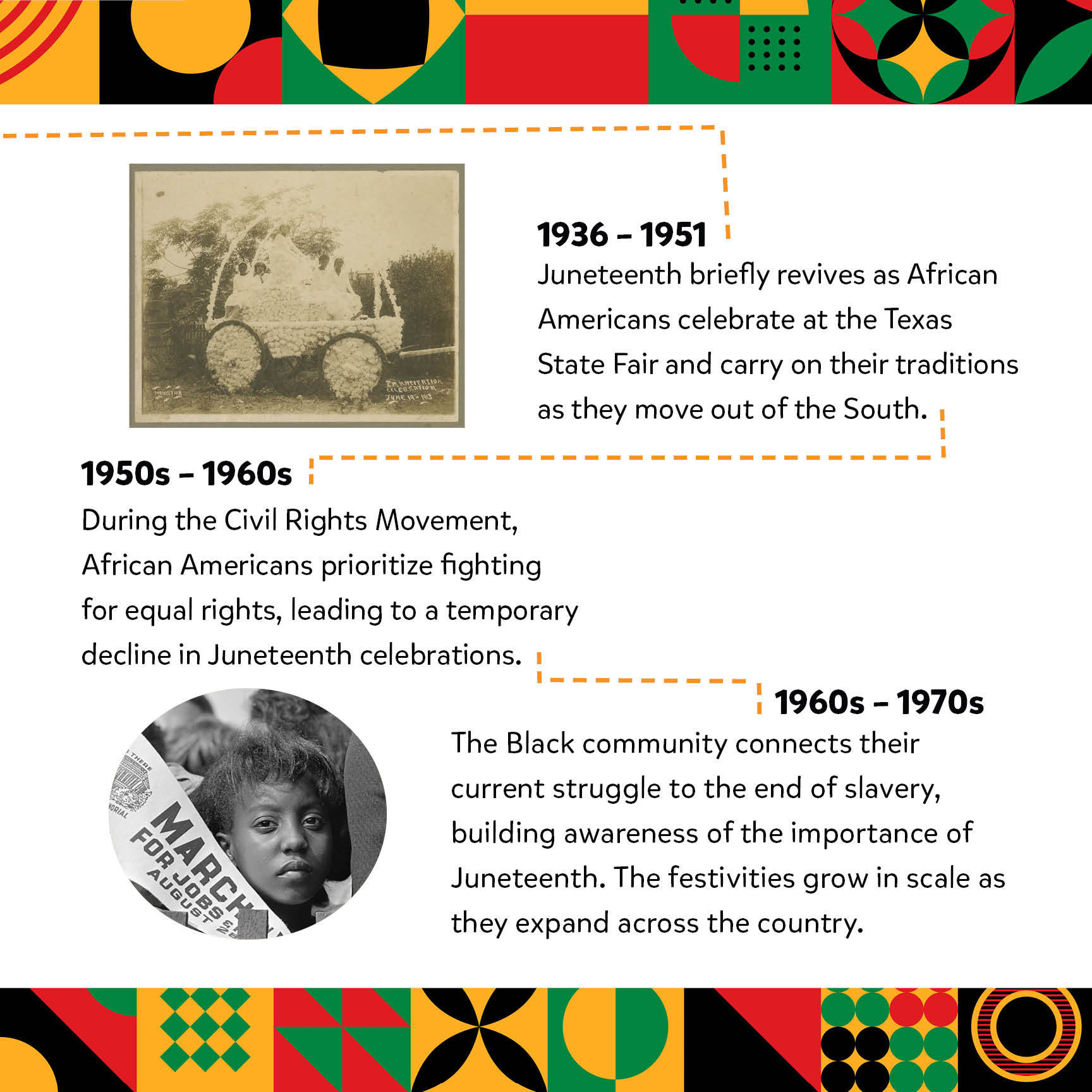 1936 – 1951 - Juneteenth briefly revives as African Americans celebrate at the Texas State Fair and carry on their traditions as they move out of the South

1950s – 1960s - During the Civil Rights Movement, African Americans prioritize fighting for equal rights, leading to a temporary decline in Juneteenth celebrations.

1960s – 1970s - The Black community connects their current struggle to the end of slavery, building awareness of the importance of Juneteenth. The festivities grow in scale as they expand across the country.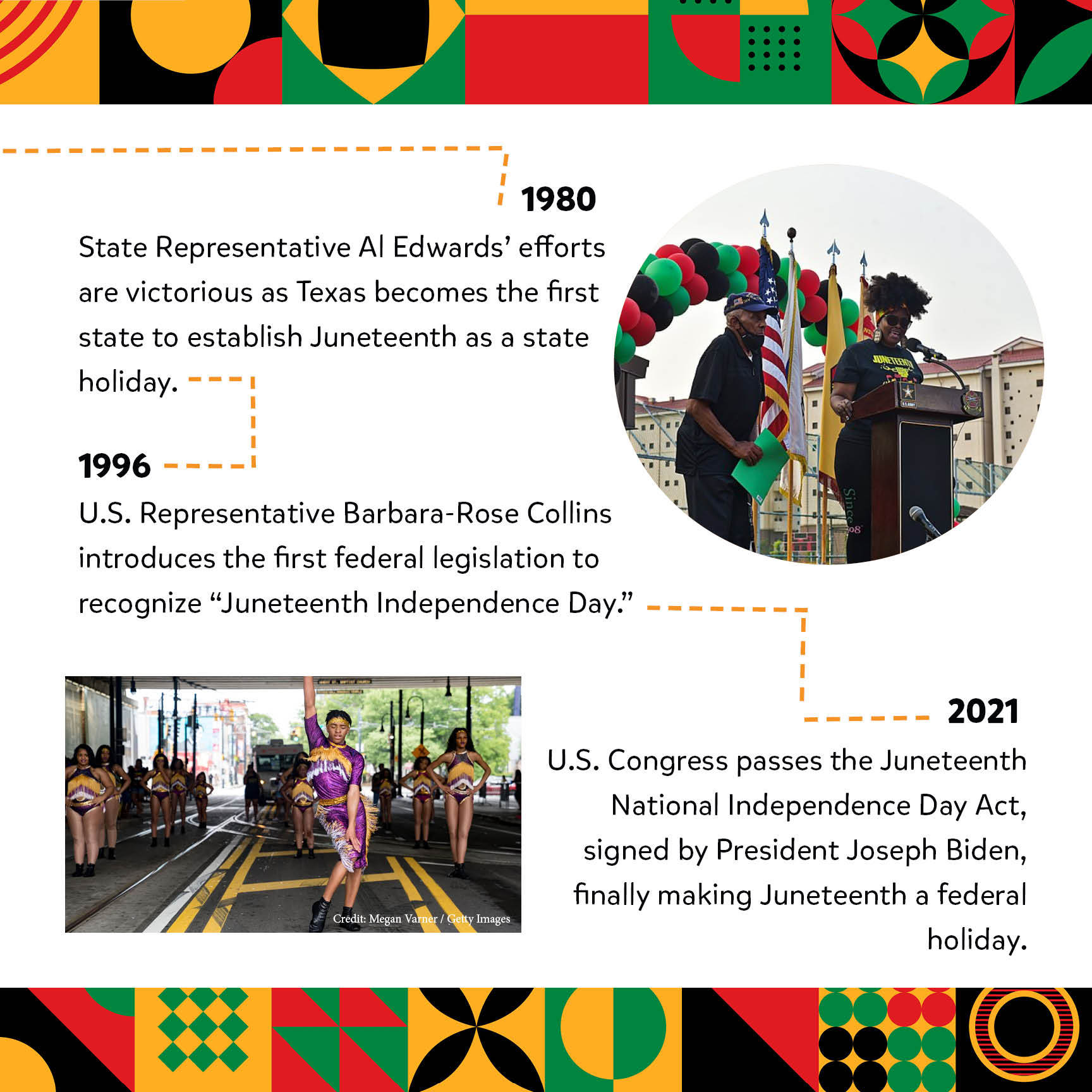 1980 - State Representative Al Edwards' efforts are victorious as Texas becomes the first state to establish Juneteenth as a state holiday.

1996 - U.S. Representative Barbara-Rose Collins introduces the first federal legislation to recognize "Juneteenth Independence Day.

2021 - U.S. Congress passes the Juneteenth National Independence Day Act, signed by President Joseph Biden, finally making Juneteenth a federal holiday.

VIP Highlight: President Abraham Lincoln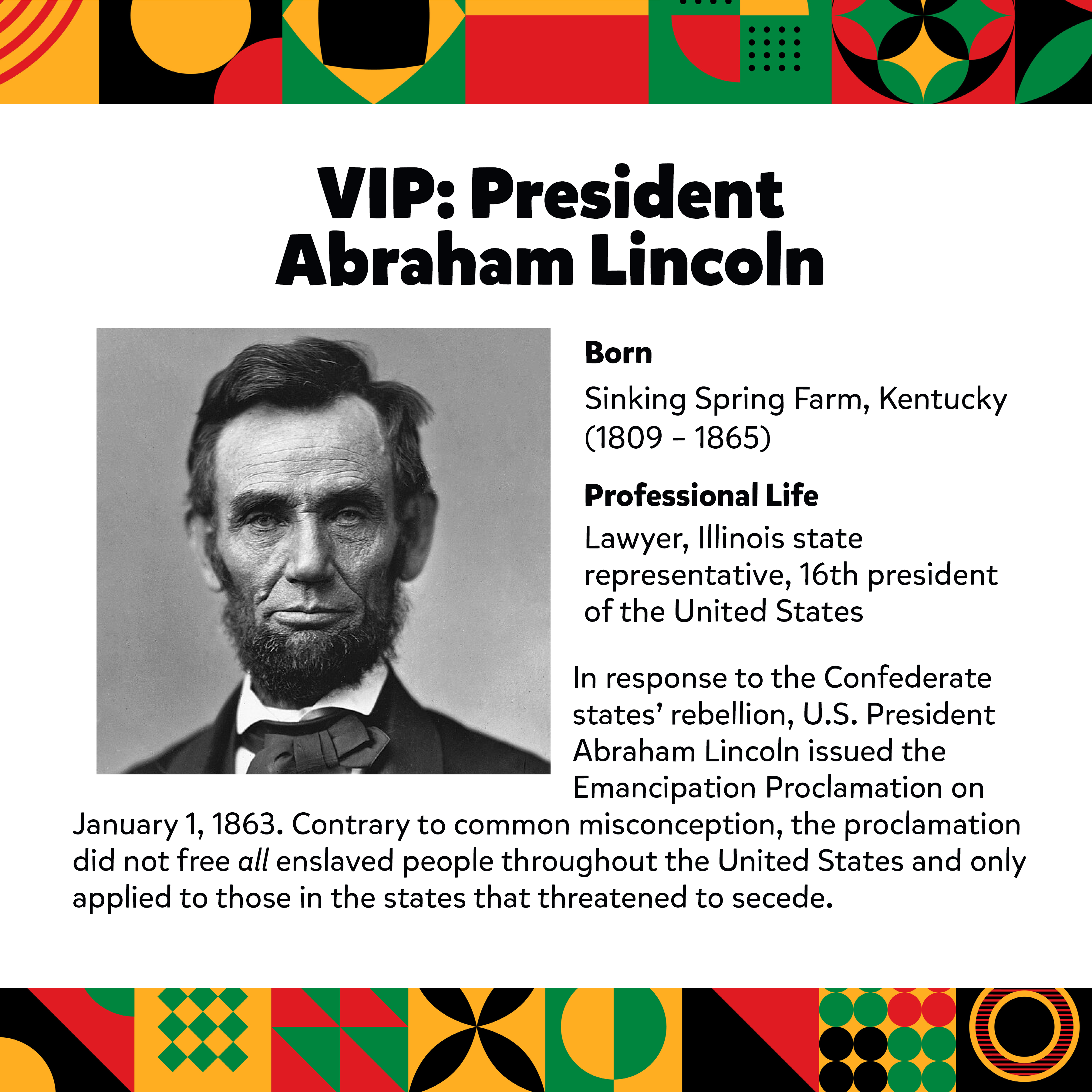 In response to the Confederate states' rebellion, U.S. President Abraham Lincoln issued the Emancipation Proclamation on January 1, 1863. Contrary to common misconception, the proclamation did not free all enslaved people throughout the United States and only applied to those in the states that threatened to secede.
VIP Highlight: General Gordon Granger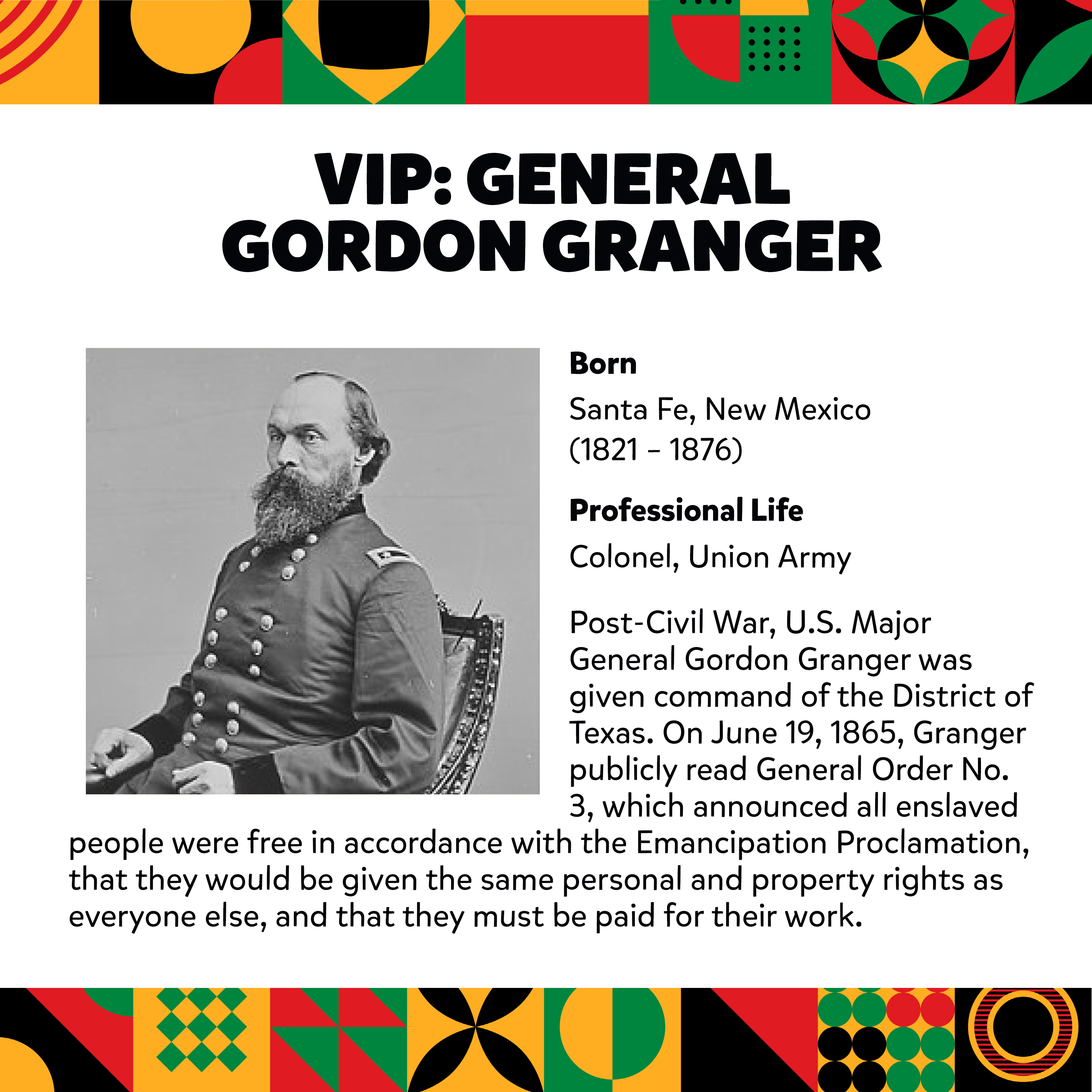 Post-Civil War, U.S. Major General Gordon Granger was given command of the District of Texas. On June 19, 1865, Granger publicly read General Order No. 3, which announced all enslaved people were free in accordance with the Emancipation Proclamation, that they would be given the same personal and property rights as everyone else, and that they must be paid for their work.
VIP Highlight: Representative Albert "Al" Edwards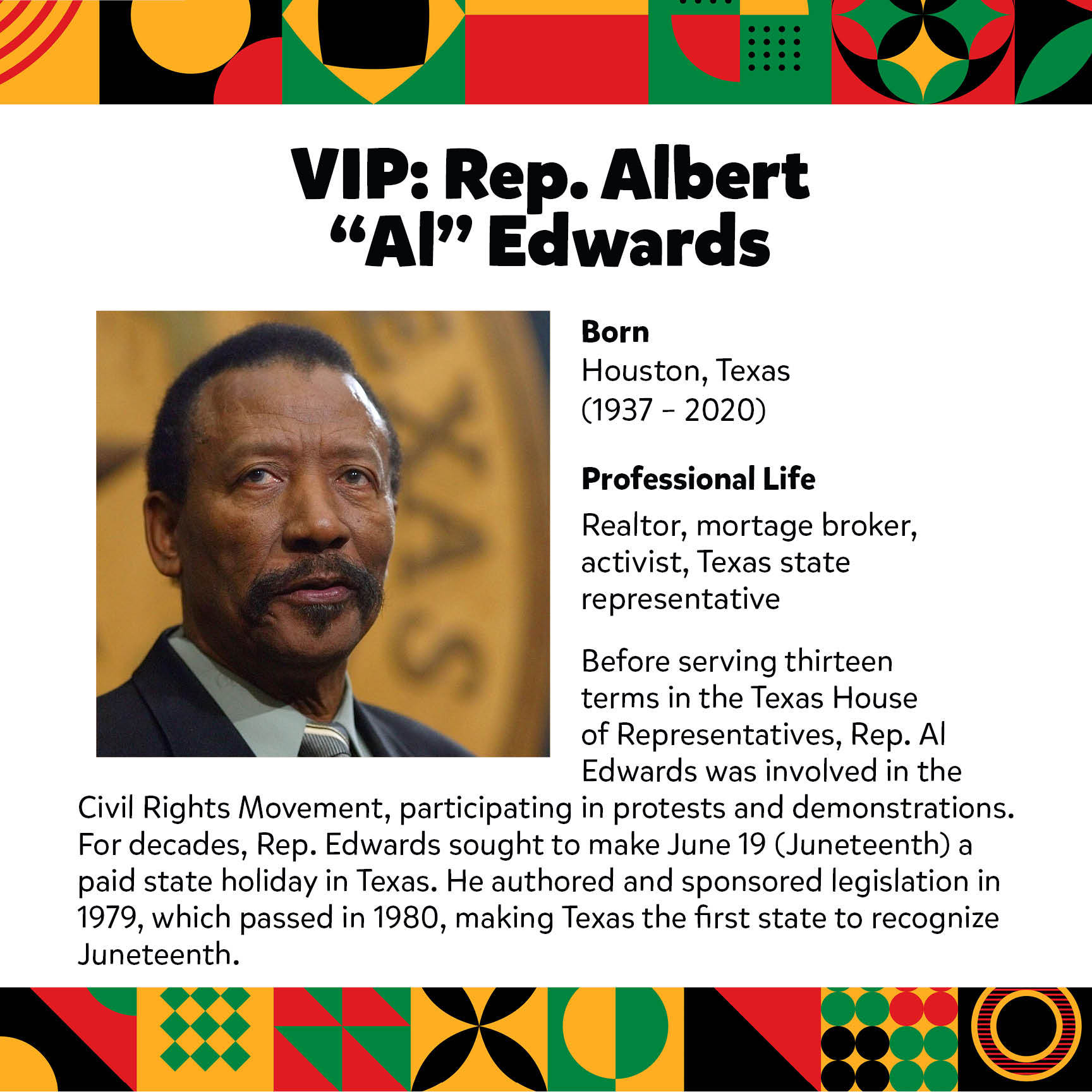 Before serving thirteen terms in the Texas House of Representatives, Rep. Al Edwards was involved in the Civil Rights Movement, participating in protests and demonstrations. For decades, Rep. Edwards sought to make June 19 (Juneteenth) a paid state holiday in Texas. He authored and sponsored legislation in 1979, which passed in 1980, making Texas the first state to recognize Juneteenth.
VIP Highlight: Opal Lee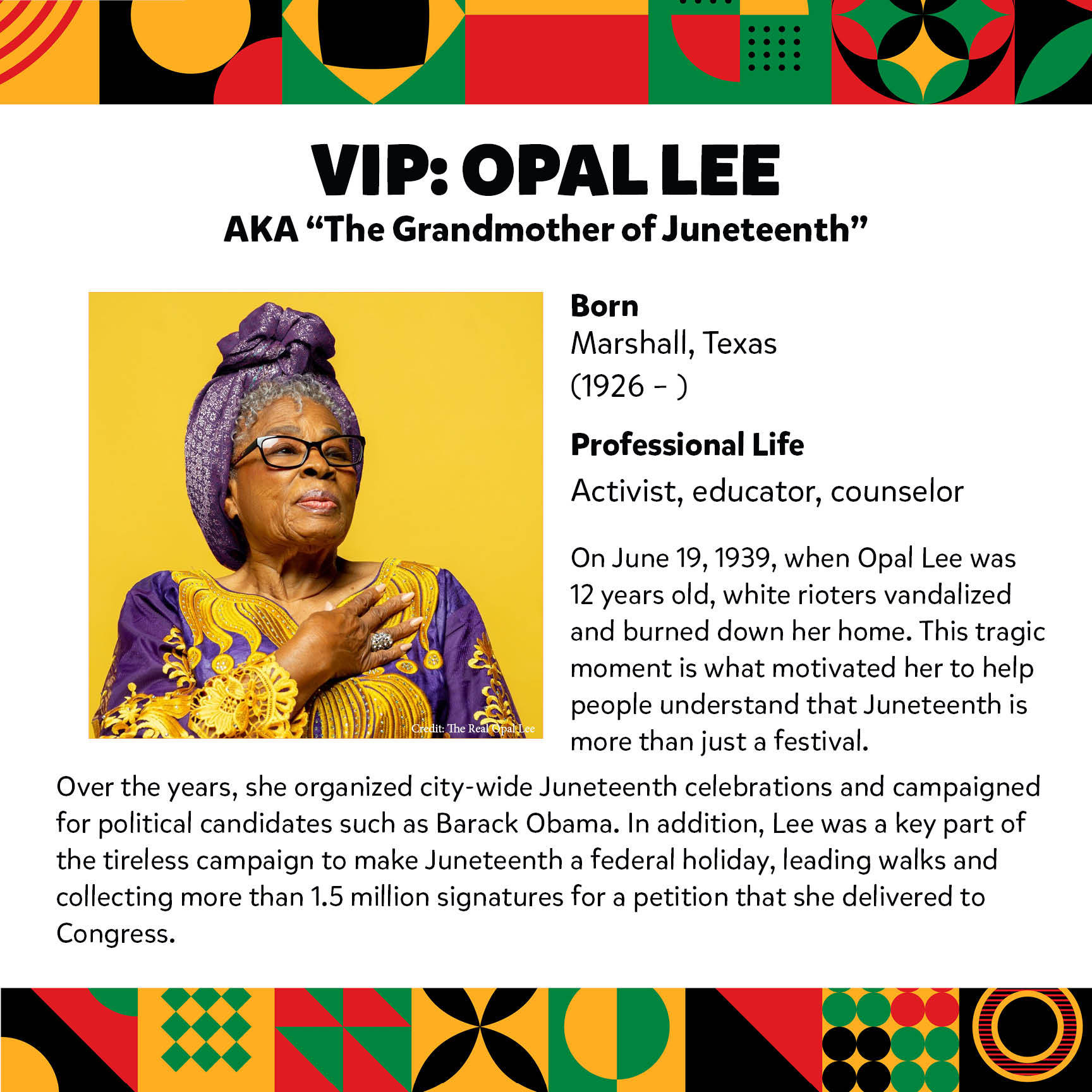 On June 19, 1939, when Opal Lee was 12 years old, white rioters vandalized and burned down her home. This tragic moment is what motivated her to help people understand that Juneteenth is more than just a festival.
Over the years, she organized city-wide Juneteenth celebrations and campaigned for political candidates such as Barack Obama. In addition, Lee was a key part of the tireless campaign to make Juneteenth a federal holiday, leading walks and collecting more than 1.5 million signatures for a petition that she delivered to Congress.
You can honor Juneteenth in a number of ways.
Learn more about slavery and its abolition.
Discuss Juneteenth's importance with family, friends, and classmates.
Celebrate different cultures, traditions, and histories. Stand against racism and discrimination.
Support Black-owned businesses and attend events organized by African American organizations.
Volunteer or contribute to organizations working for racial equality and social justice.
Be a good role model and encourage others around you to do the same.


Ways to Find and Support Local Black-Owned Businesses, Organizations and Events
Springfield and Central Illinois African American History Museum
Black Lives Matter - Springfield Chapter
Garvey Tubman Cultural Arts and Research Center
Juneteenth Inc.- Springfield, IL
Send us your recommendations to add to this list at info@kidzeum.org.


Additional Juneteenth and Other Black History Resources

READ
Let's Talk About Race - Kidzeum Toolkit
Juneteenth Digital Toolkit - Smithsonian National Museum of African American History & Culture
North Star Learning Lab - Smithsonian National Museum of African American History & Culture
Jun 19, 1866 CE: Juneteenth - National Geographic Educator Resource

WATCH

Driving While Black: Race, Space and Mobility in America - PBS

The History of Juneteenth - The Amistad Center

Celebrating Juneteenth: The Legacy of Frederick Douglass - New York Historical Society Museum & Library