Make the most of summer with a backyard campout!
August 9, 2022
by Lindsey Flannery
August. For parents, the word has become synonymous with back-to-school prep, buying supplies and new shoes, getting haircuts, and fitting in the last few items on the summer bucket list.
However, you don't have to cut short the warm-weather fun just because school starts. If you're a glass half full kind of person, there's still half of summer left as of the beginning of August. And what better way to take advantage of it in an accessible, low-planning, school-has-started kind of way than an adventurous backyard campout!
If you have a backyard, and a relatively flat spot for a tent, you can have a backyard campout. It's novel, it's exciting, and you can include all the fun parts of camping -- activities, stories, s'mores! -- without being stuck far from home if things go awry. (In other words, you can easily bail if it's raining.)
Here are a few ideas to make your backyard campout a hit with the kids, while enjoying the outdoors and making memories.
Decorate your tent or camping area
Make garlands, create a sign, hang paper stars, or whatever strikes your kids' fancy. It's camping, but prettier. If you have close electrical access you could string some white lights, even if it's just over some chairs.


Have family craft or game time
The beauty of a backyard campout is that it offers intentional time together as a family in the outdoors, without the work and expense of campground reservations and travel. Make the most of the time together by designating craft or game time while it's still light out. Get the citronella candles lit, and bring out your favorite game, cards, or craft supplies. Check out instructions for our painted rock craft below!


Cook dinner outside
One of the best parts of camping is food cooked over an open fire. If you have a fire pit area, this is the time to make use of it. Otherwise, your grill works too. You can go as simple as hotdogs on grill forks, or try foil packet dinners -- each person makes their own mix of seasoned ground beef and vegetables. Wrap 'em up tight with foil and place on a rack over hot coals, turning frequently until cooked through.


Catch fireflies together
As the sun sets in August, fireflies begin lighting up the night sky. If you're lucky, you might see some in your yard. Run around together catching them and gently placing them in a Ball jar. Enjoy their glow for a while before releasing them back into the evening! There might not be a more wholesome and nostalgic summer activity.


Make s'mores
If we're being honest, this will probably be your child's favorite part. Ooey gooey marshmallows and melty chocolate, around the campfire, with Mom and Dad? What could be better? Just make sure to practice fire safety (and hold that marshmallow over hot coals—not flame—and slowly turn it rotisserie style to keep it from catching fire).


Tell stories around the fire
The sun has set, the campfire is glowing, and bellies are full. Cap off the night with stories told 'round the fire. They don't have to be scary, but older kids will enjoy a little bit of suspense. Bonus points for making up stories as you go. Take turns with adults going first to show the kids how it's done -- and then let them have a try! Even if you don't get a fright, you're sure to have a laugh or two before snuggling into your sleeping bags.


Make a camp craft: painted rocks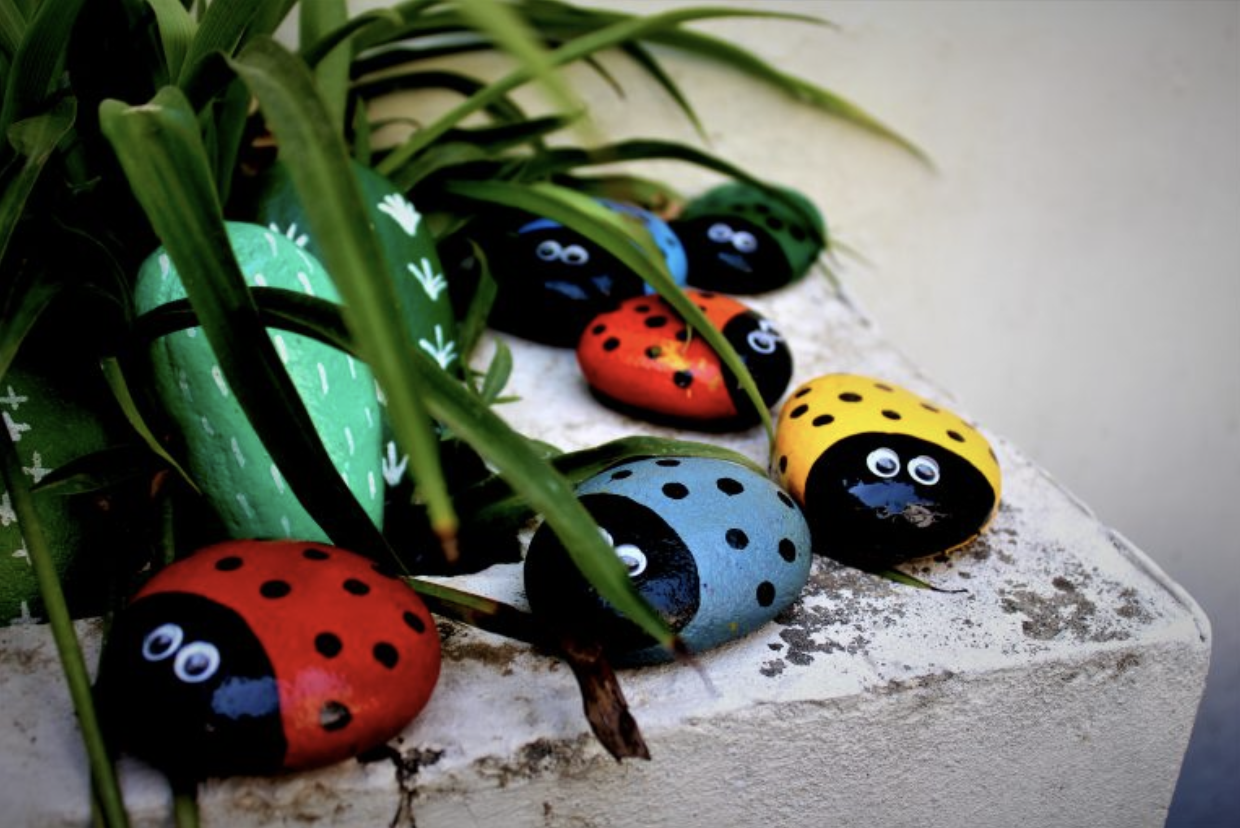 Painted rocks have been around for-ev-er, but experienced a resurgence during the pandemic when people had a bit more time on their hands. The idea is to paint a smooth river rock with any fun picture or uplifting word or message, and leave it at a park or on a trail where others will find it.
For the backyard campout version of this craft, you can either buy river stones at the craft supply store, or have the kids go on a backyard scavenger hunt to find rocks smooth enough to paint. (Or find them in fun shapes that could be turned into certain objects, like triangle rocks for sharks.) Set up a crafting area either on your patio table or on an old blanket, and create!

What you need:
River stones or found rocks
Acrylic paint (use Patio Paint brand for weather resistance if you want to keep them outside)
Brushes
Toothpicks (for fine decorating, like eyes)
Make sure your rocks are clean and dry, and paint one color at a time, letting the paint dry in between. If you want to keep the rocks outside, avoid googly eyes (the glue won't hold up to the elements) and paint the eyes instead. Place them around your camping area for decoration!

Use these ideas for your campout, or make it your own. Either way, planning a backyard campout will help you savor every last drop of summer before, or even after, school starts. Enjoy making memories with your family!