Creating Healthy Little Smiles
February 19, 2020
by Sirisha Govindaiah, DDS
Springfield Pediatric Dentistry
February is National Children's Dental Health Month! Because we at Springfield Pediatric Dentistry want kids to have the brightest, happiest smiles, we thought we'd go over four important aspects of pediatric dental care.
BRUSHING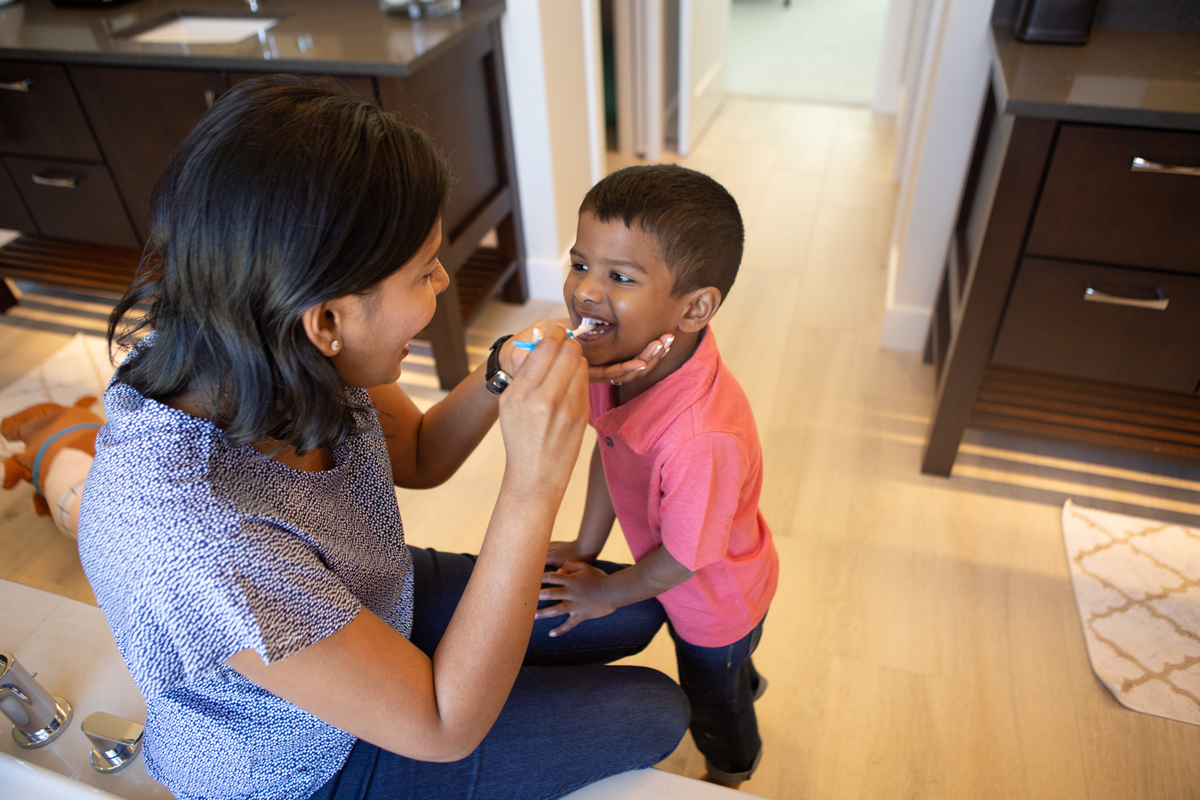 Creating good dental habits for your children should start from the day they are born. Wiping their gums with a damp wash cloth after every feeding is as important as changing their dirty diapers. Most babies get their first tooth around 6 months of age. For children younger than 3 years old, the amount of fluoridated toothpaste we recommend using is equivalent to the size of a rice grain; for children 3-6 years old, it should be equivalent to the size of a pea, with supervision. It is also important that children brush their teeth every day in the morning and before their bedtime.
Tips:
Choose soft bristle toothbrushes with large handles, so children can hold them easily.
When children are learning healthy habits, modeling the behavior can be beneficial. Let them watch you, and then work with them on their brushing skills.
It's a good idea to establish a consistent brushing pattern. For example, start on the left side of your bottom molars, work your way around to the front and then finish the right bottom teeth. Be sure you're paying attention to the front and back surfaces and the gum line.
Change your child's toothbrush every 3 months or sooner if the bristles are frayed. Don't forget to use a new one after illnesses that involve the mouth, such as strep throat.
As an incentive, you can display our tooth brushing chart in your bathroom! After brushing, let your kids put a sticker in each spot for morning and night. Bring it to our office so they can pick out a prize.
FLOSSING
As soon as you see teeth touching, it's time to introduce flossing into your kid's routine. Flossing helps prevent bad breath, which makes morning cuddles with your kiddos much more enjoyable. If your kid's teeth aren't touching, you get a free pass for now, but you can still work on forming the habit from a young age.
FLUORIDE
Fluoride helps prevent and can slow down the progression of cavities, thus protecting your children from unnecessary pain. Most children get an optimal amount of fluoride through their drinking water, and from the use of a fluoridated toothpaste.
The American Academy of Pediatric Dentistry and the American Dental Association recommend fluoride toothpaste be used as soon as children get their first tooth. Dr. Govindaiah may recommend a topical fluoride application during your kid's dental visit to give their teeth an extra boost of protection.
SEALANT
In addition to brushing twice a day and flossing, you can also take an extra step to protect your kid's teeth with sealants. The molars are typically most susceptible to cavities as they have more pits and fissures than the rest of the teeth. This can make it more difficult for a toothbrush to clean these chewing surfaces, thus increasing the chance of food and bacteria getting stuck and causing decay. To protect your children's molars, don't forget to ask us if your kid is ready for sealants.
As always, call us at Springfield Pediatric Dentistry with questions and don't forget to come in every six months to show us your bright and happy smiles!