Halloween Food Allergies
October 29, 2019
by Renu Govindaiah, MD
Springfield Clinic Allergy and Immunology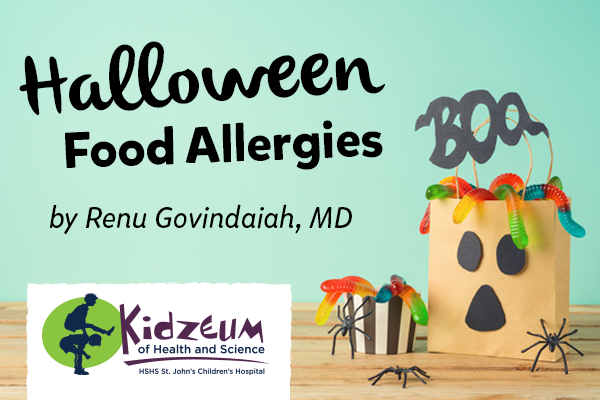 For many children, Halloween is one of the most enjoyed holidays. It is one of the only times of the year when it is perfectly acceptable to dress up as your favorite, sometimes spooky, character and walk around the neighborhoods begging for candy and treats. At the end of the night, you can count the number of goodies you have to enjoy over the coming days. In our house, after the night is over, my kids sort their candy and then trade it with each other depending on their likes/dislikes. I realize how lucky my kids are to be able to enjoy the night without worry.
However, for approximately 5.6 million children with food allergies, Halloween can be a scary time. Many treats contain small amounts of an ingredient that may trigger an allergic reaction. Some of the most common foods to cause allergies are peanuts, tree nuts, milk, egg, soy and wheat. An allergic reaction may cause symptoms such as skin rashes, swelling, difficulty breathing and vomiting which can be life threatening. Interesting enough, small candy bars given during Halloween may contain different allergens than the larger ones, which means the labels must be checked prior to consumption.
In order to prepare for Halloween with children who have food allergies, I recommend parents set some ground rules prior to trick or treating to ensure a safe and fun night.
Focus on other aspects of Halloween instead of treats only.
Make sure not to eat treats until the child is home when parents can sift through, read food labels and pick safe treats. You can even consider trading candy for other goodies.
Make sure parents accompany the child to houses where treats are given.
Be prepared with an emergency plan in case of an allergic reaction.
Consider having a game day in your house instead of traditional Halloween.
As a part of making Halloween safe for children, the Food Allergy Research and Education (FARE) started the Teal Pumpkin Project. It was started as a way to raise awareness of food allergies and to make sure all children can enjoy and be included in the celebration of Halloween. By placing a teal pumpkin outside your door, it indicates that nonfood treats are available for trick or treaters. Some examples are glow sticks, bracelets, stickers and pencils. I have found from passing out treats that many children, even those without food allergies, prefer these more than candy treats. Some nonfood treats may contain allergens such as clay/balloons and these should be avoided. If you do not have time to paint a teal pumpkin, you can download a free sign from the FARE website at www.foodallergy.org and put this on your door.
Be sure to include children with food allergies in your Halloween planning on October 31st.
I hope you have a Spooktacular and safe Halloween!