Fall craft ideas with gourds, pinecones and acorns
September 16, 2022
Check out our round-up of fall crafts to greet the changing season

by Lindsey Flannery

Ready or not, cooler weather is arriving, and harvests of pumpkins, gourds, squashes and apples aren't far behind. Every year, people flock to pumpkin patches and orchards to celebrate autumn, pick pumpkins, and partake in a variety of fall-themed activities like wagon rides and corn mazes.
Once you're home from the pumpkin patch, what do you do with your pumpkins and gourds? While you've mostly likely carved a jack-o-lantern before, there are endless fun, fall-themed crafts and activities you can create with your haul, and the acorns and pinecones you find in your yard. Here, we've curated a selection of fall craft ideas that's sure to inspire your creativity!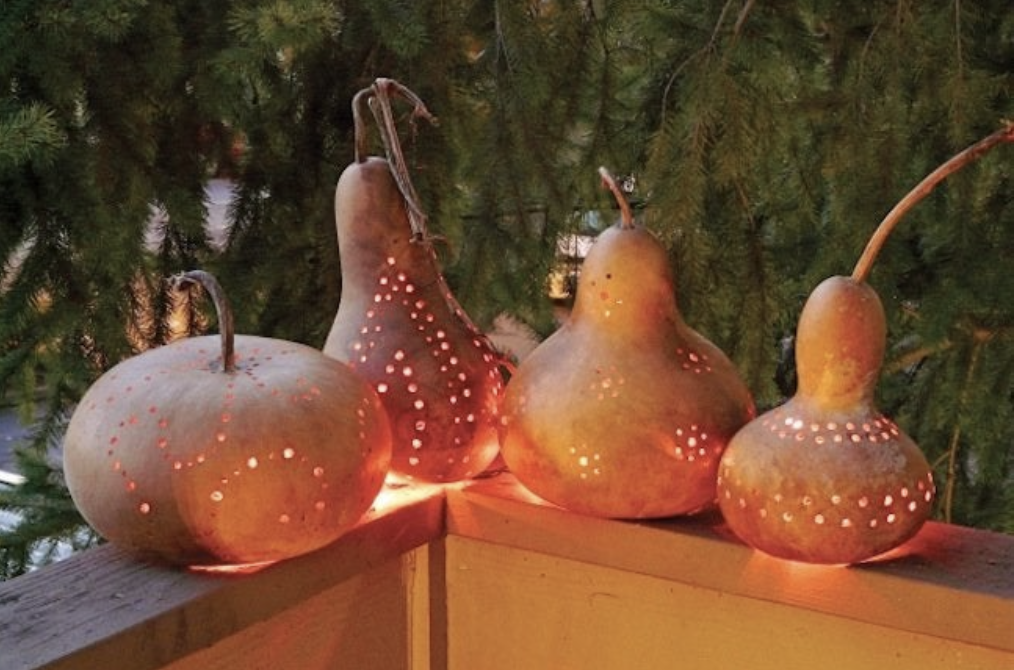 Gourd Lanterns
Hard-shell gourds, including bottle gourds, make beautiful lanterns that you can reuse year after year…. If you're patient enough to let them dry for a couple months first. Alternately, you can purchase already cleaned/dried ones, or simply use a fresh gourd (like we do with jack-o-lanterns) that will last a few weeks only, to make these beautiful lanterns at home in time for Halloween! Here's a detailed tutorial from makezine.com.

Bottle gourds are excellent for all kinds of crafts, including bird houses and even musical instruments. As a three-dimensional blank slate, gourds can be painted, stained, dyed, woodburned, carved, sculpted and embellished in an endless variety of ways. There's even an American Gourd Society dedicated to growing and creating with gourds. Make the lanterns above, or see what you can come up with to make use of your gourds!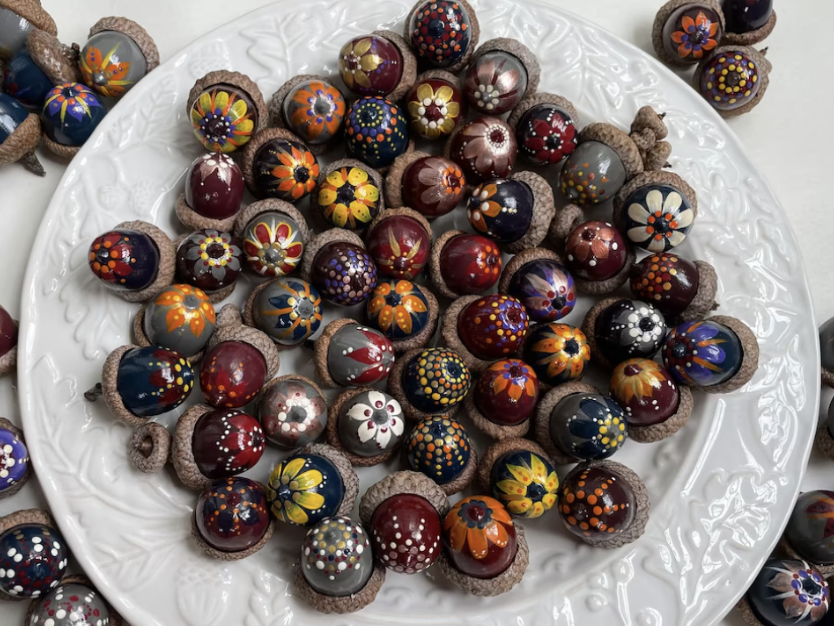 Painted Acorns
Adorable acorns with their little natural hats are readily available right now, anywhere there are oak trees! We count these as one of nature's fall gifts, although they might seem more nuisance than treasure if you have an oak tree over your home or driveway. What to do with all those acorns? Crafts!

In particular, we love painting acorns with a variety of fall colors and designs and displaying them in bowls or along with other fall decor. Your older kids will love painting fun designs on your acorns, but you can choose solid colors too for the little ones. Here's a step-by-step tutorial from Crafts by Amanda for brightly painted acorns -- although all you need is acrylic paints from the craft supply store, a palette and a paintbrush. Simply choose earthy autumn colors to make them ideal for the season. To kill any bugs, it's also recommended to heat acorns in an oven set to the lowest temperature for a couple hours.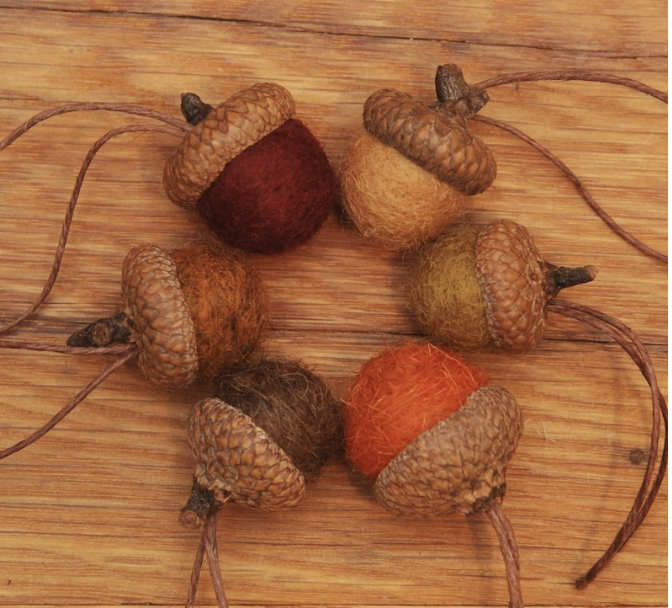 Another fun idea is to make felt acorns. Simply purchase tiny felt balls in autumn colors, and hot glue them to found acorn caps. These adorable acorns make a beautiful and cozy fall display with your pumpkins and gourds.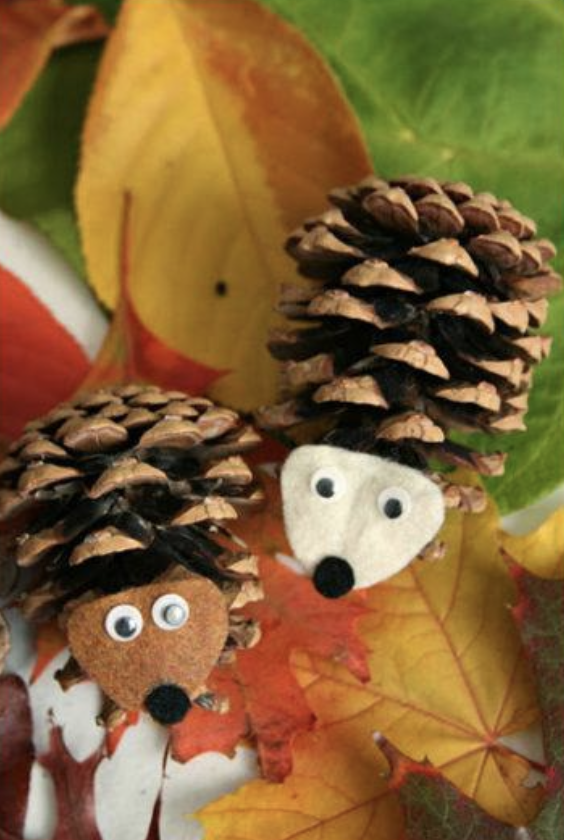 Pinecone Hedgehog and Owl
These pinecone crafts are excellent for the littlest crafters. Finding the pinecones in your yard or at your nearest park is the most fun part! Just make sure to wash sticky little hands when you come home.

To make pinecone hedgehogs, simply cut out faces from brown or cream felt, and glue on googly eyes and a tiny black pom pom for the nose, using tacky craft glue. Then, glue the whole face to the pinecone.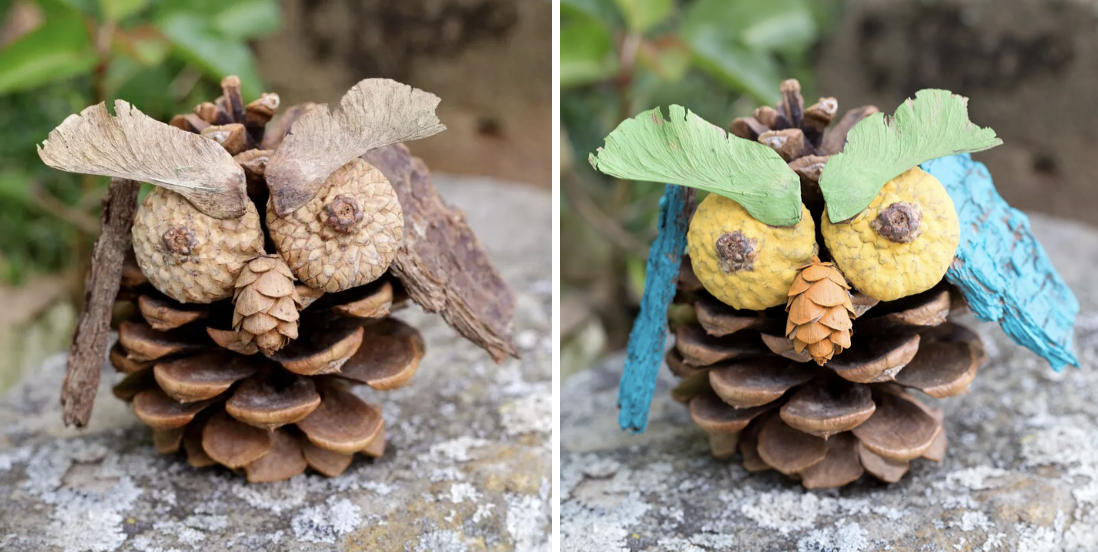 Next, these pinecone great horned owls are made entirely with natural objects that are easy to find on your hike! All you need is one large and one tiny pinecone, acorn tops for eyes, maple seeds for the feathers above the eyes, and two pieces of bark for the wings. Use tacky craft glue to attach the parts together.
If your child prefers more color, you can paint the attached parts first, as shown above! See the full tutorial at firefliesandmudpies.com.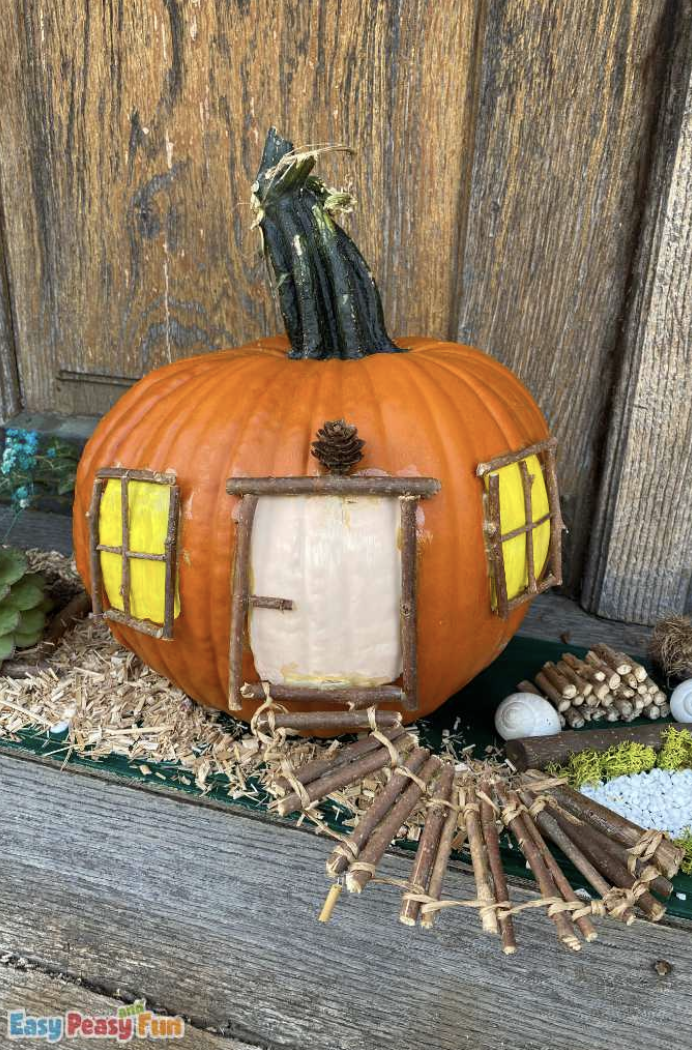 Pumpkin Fairy House
Understandably, most parents don't want to hand their young children a knife or other sharp carving tool to make a jack-o-lantern. Luckily, there are many great ways to decorate pumpkins that don't involve knives!
What's sweeter than these little pumpkin fairy houses? Again, this craft will bring your child outdoors as they look for the perfect size twigs to use for the windows and bridge. Simply snap the twigs to make the right length (or if the stick is too thick to snap, you can help with pruners). Paint the windows and door first, and then glue on the twigs. Make a bridge by tying equal-length twigs together with jute twine. Encourage your child to adorn their fairy house with tiny pinecones, acorn caps, or whatever natural objects they can find!

Hopefully, these ideas have gotten your gears turning, and you'll have plenty of ideas of your own for crafting with pumpkins, gourds, pinecones, and acorns. Best of all, you'll enjoy time outdoors collecting objects, and quality time spent crafting with your kids. Happy fall!