Can Your Kite Touch the Sky?!
March 31, 2020
by Aaron Pflug • Kidzeum Staff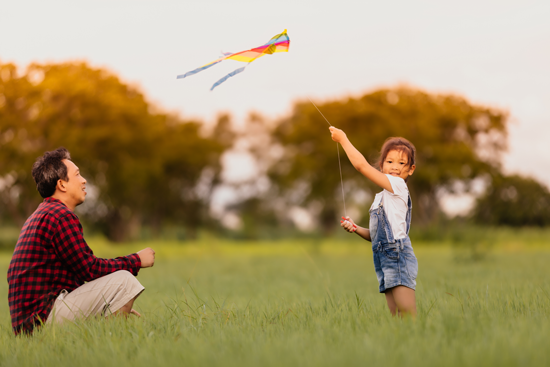 No matter the age, a certain satisfaction comes from catching that perfect gust of wind and feeling the line unravel as your delicate but marvelous creation soars toward the puffy, white clouds. But that moment of triumph actually begins inside with design and construction…and plenty of opportunity for creativity, fun, and learning!
Kite construction, at its most basic, requires a minimum of materials and tools. That's one reason kites are such a great at-home project. And, even a straightforward design can be transformed by something as simple as experimenting with different materials for the sail, sticks, or balance. Or, just show off some creativity and decorate throughout the process. There's nothing wrong with giving just about any (reasonable!) idea a chance to take off!
For those seeking greater challenges, kites offer limited-only-by-your-imagination potential to find them. Try fine tuning a favorite for the wind conditions you're most likely to encounter. Then, an ambitious kite enthusiast can make their way through over fifteen hundred different designs! Or, perhaps, just try a few favorites.
In any case: take advantage of those beautiful – but, hopefully, breezy! – Spring and Summer days by going outside with your crew to fly their self-constructed kites!
And, of course, let us know what worked best for you! Send us your favorite results – we'd love to see the ups and the downs!