Superheroes for Health


What is Superheroes for Health?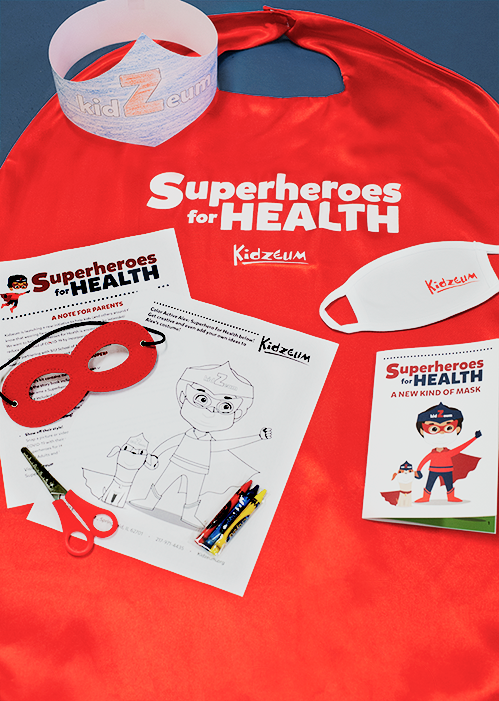 In 2020, Kidzeum launched an initiative to help kids (and others around them) stay healthy! Early in the pandemic, we knew that wearing face masks in public could (and sometimes still can) be intimidating or scary for young kids. We wanted to help! Superheroes for Health was a campaign encouraging kids to use their superpowers to reduce the spread of COVID-19 by incorporating face masks into clever costumes. We partnered with SIU School of Medicine and other local organizations to ensure that our Superhero kits (which included masks, books and materials for costume making) would be available to the children who needed them most in our community. We also produced kits for our Spanish-speaking friends!
What was the impact?
With the help of our friends, Kidzeum staff and volunteers were able to create and deliver nearly 600 superhero kits to kids in need. We also produced a video outlining the five rules for being a superhero, as well as a children's book featuring Kidzeum's own Superhero: Active Alex.
Kits were distributed through SIU's Access to Care program, Memorial Medical Center, HSHS St. John's Hospital, the Boys & Girls Club, Compass for Kids and the Springfield Urban League. We were also contacted by a teacher seeking our Spanish kits from a grade school in Texas - and were able to deliver!
We would like to say a special THANK YOU to our contributors and sponsors who made Superheroes for Health possible: SIU Medicine, the Tracy Family Foundation, Systemax, Reverie Apparel, Frye-Williamson Press, Maverik Marketing and the Sunrise Rotary Club.
We would also like to thank everyone who contributed to our Superheroes for Health campaign, whether monetarily or in donating your time and skills. We cannot express enough how much we appreciate you!


Superheroes for Health was made possible by:

• • • • • • • • • • • • • • • • • • • • • • • • • • • • • • • • • • • •

• • • • • • • • • • • • • • • • • • • • • • • • • • • • • • • • • • • •

• • • • • • • • • • • • • • • • • • • • • • • • • • • • • • • • • • • •

• • • • • • • • • • • • • • • • • • • • • • • • • • • • • • • • • • • •

• • • • • • • • • • • • • • • • • • • • • • • • • • • • • • • • • • • •