Story Time with the Skwerdlock!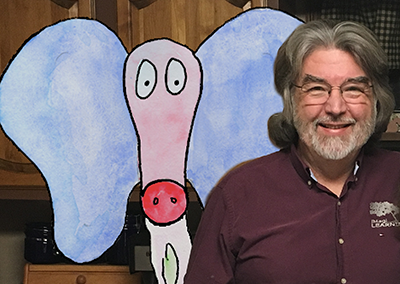 Don't miss author John Jamison at Kidzeum on Saturday, October 12 at 11am for storytime, fun, and games! Playing with the idea of 'healthy imagination,' the Springfield author of adult and children's fiction will introduce attendees to one of his favorite characters, The Skwerdlock.
Featured in his children's books, The Skwerdlock is always fun to be with, curious, and excited to try new things. The Skwerdlock watches everything you do and then likes to try it all. Because of that, the Skwerdlock is a great friend to have around.
The Skwerdlock would never do anything to hurt anyone or to cause any problems. But sometimes, just being a Skwerdlock means that strange things can happen when a Skwerdlock is nearby. This little story is a friendly reminder of what can happen when a Skwerdlock is around.
Mostly, the Skwerdlock is just an excuse to curl up in the recliner or sofa with your favorite early reader or listener and smile together.
This event is the perfect opportunity to share in 'healthy imagination' with your children or grandchildren in playful, but also educational, surroundings.
So, don't miss your chance to meet John (and his Skwerdlock!)
Skwerdlock picture books will be available for purchase and to be signed. There are currently three in the series:
Meet the Skwerdlock!
I Saw the Skwerdlock!
Never Take the Skwerdlock to the Doctor!
A fourth Skwerdlock book, this one for Mid-elementary readers will be out this fall and is available for pre-order in time for Christmas!
For more information about John Jamison and his books visit jamisonbooks.com.
This event is free with general Kidzeum admission.