Nickelodeon's Worldwide Day of Play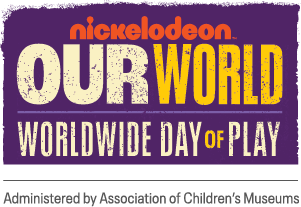 The Association of Children's Museums (ACM) has partnered with Nickelodeon for this year's Worldwide Day of Play to celebrate play through special events at participating museums, including yours truly!
"Play is vital for children, young people, and adults as well. Children's museums have vast experience in creating playful learning experiences that are age-appropriate, hands on, interactive, and joyful. Even beyond their walls, museums form partnerships and build capacity to encourage more playful learning experiences in schools, homes, parks, hospitals, airports, malls, and beyond. Children's museums provide examples of the many ways parents, caregivers, and educators can use play to facilitate wellbeing, healthy brain development, and to make learning more effective and joyful for everyone. As children's museums, we believe in the power of play and we strive to nurture more play and playful learning everywhere we go." -ACM
Join the staff and special guests at Kidzeum September 30, from 9am-4pm, for a day full of playful activities and games!


Schedule of Events
9:00 - 10:00: Toddler Time (ages 3 and under)
11:00 - 11:30: Stretch It Out! Yoga with Erin Studer from Jax Yoga, Session I (all ages)
12:00 - 12:30: Stretch It Out! Yoga with Erin Studer from Jax Yoga, Session II (all ages)
1:30 - 3:30: Hula-Hooping Free Play (all ages)
2:00: Guided Activity
2:30: Guided Activity
3:00: Guided Activity

More activities TBA.